Intragastric balloon
"In patients who comply with the indications, the gastric balloon is a very effective solution that achieves significant weight loss".
DR. CRISTINA CARRETERO RIBÓN SPECIALIST. DIGESTIVE DEPARTMENT
What is an intragastric balloon?
The intragastric or gastric balloon is a temporary procedure that serves as an adjunct to a weight loss program.
It is indicated for people with obesity or overweight associated with other disorders (such as type 2 diabetes). It can be useful for patients with morbid obesity as a treatment prior to bariatric surgery.
The objective of this treatment is to create a feeling of fullness and early satiety and therefore less hunger, since the balloon occupies a large part of the stomach, favoring the acquisition of appropriate dietary habits that will help continue weight loss once the balloon is removed. The combined treatment of a low-calorie diet and the placement of the balloon results in significant weight loss.
When obesity is severe and conservative measures have failed, bariatric surgery is the most effective way to achieve lasting weight reduction in morbidly obese patients and improve the health problems associated with this disease.
The Clinic is an International Center of Excellence by the International Federation for the Surgery of Obesity and has professionals with more than 15 years of experience in the performance of bariatric surgery.
When is the intragastric balloon indicated?
The intragastric balloon is a temporary treatment that achieves significant weight loss and is usually indicated in two situations:
Those patients who have no indication for bariatric surgery but in whom the desired weight loss is not achieved with changes in diet, physical activity and medication.
Those patients who do have an indication for surgery but present a high surgical risk. The intragastric balloon is placed first in order to achieve significant weight loss and make surgery possible.
Most frequent indications of this treatment:
Overweight with associated diseases (diabetes...)

Severe obesity (BMI> 35 kg/m2).

Morbid obesity (BMI > 40 kg/m2), as a bridge to surgery.
Do you have an overweight or obesity problem?
It may be necessary to place an intragastric balloon
How is the intragastric balloon placed?
The placement of an intragastric balloon is carried out by means of endoscopy, it is not a surgical technique and must be carried out by doctors specialized in digestive endoscopy.
It is done on an outpatient basis and with deep sedation, performed by an anesthesiologist. The procedure consists of introducing a deflated silicone balloon through the mouth until it is placed in the stomach.
Once placed in the stomach, it is filled with a sterile saline solution. The balloon is "floating" in the stomach and produces a great sensation of satiety, thus reducing the patient's food intake.
The duration of this procedure is about 30-45 minutes and although it is performed under anesthesia, hospital admission is usually not required.
In patients where there is an indication, weight loss through the intragastric balloon is highly effective.
In patients with morbid obesity the weight loss is approximately 1 kg per week.
It is important that this procedure be carried out by experienced specialists in order to avoid further rejection in the placement of the gastric balloon.
The gastric or intragastric balloon must be accompanied by a personalized diet and physical exercise plan, with the advice of nutritionists and psychologists, in order to achieve the best results.
After 6 months, the gastric balloon must be removed by endoscopy and the dietary and physical activity plan must be continued in order not to regain the weight lost.
Sometimes, after the removal of the balloon, a new one can be placed for another 6 months.
During the first few days, you may experience pain, nausea and vomiting. This is normal, since the balloon is a "foreign" object to the stomach. Medication can be given to relieve this discomfort by controlling the symptoms.

After these first few days, you will no longer feel any major discomfort and will only feel a sensation of fullness that will make you eat less.

During the first week you should avoid intense physical activity. After this time you will be able to lead a normal life and will have to carry out a regular program of physical exercise that will be indicated to you by your medical team.

If the gastric balloon leaks (< 2% of the cases), you will notice that the urine has a blue-green color, from the dye that is used along with the sterile saline solution to fill the balloon. If this happens, you should immediately go to a hospital center familiar with intragastric balloon extractions.
Where do we do it?
IN NAVARRE AND MADRID
The Obesity Area
of the Clínica Universidad de Navarra
Our Obesity Area is formed by a team of professionals from different specialties. In less than 48 hours we perform the complete evaluation of a patient by all specialists according to our obesity protocol.
The Clinic is a center of excellence accredited in the treatment and surgery of obesity by the European Society for the Study of Obesity and by the International Federation for Bariatric Surgery.
What diseases do we treat?
Overweight

Childhood obesity
What treatments do we perform?
Medical plan and personalized nutritional follow-up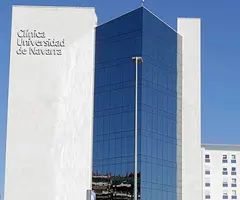 Why at the Clinica?
More than 20 years of experience in the treatment of obesity surgery.
Trained in these techniques in international reference centers in the USA and Europe.
In 48 hours our specialists will evaluate your case and propose the best treatment.
Our team of professionals
Specialists in the Obesity Area with experience in intragastric balloon placement