Digestive
"Colonoscopies in asymptomatic people have been proven a decrease in colorectal cancer mortality by 35% to 55% of patients".
DR. Mª TERESA HERRAIZ BAYOD DIRECTOR. DIGESTIVE DEPARTMENT
It counts with a multidisciplinary team of experts in the diagnosis and treatment of diseases of the digestive tract.
Our goal is to ensure that the diagnosis is carefully established and the treatment plan is tailored to each patient.
We have an Endoscopy Unit equipped with the latest technology and professionals with broad experience in performing endoscopic diagnostic and therapeutic techniques.
To this end, in addition to providing care, the specialists are committed to continuous training and research in order to improve their knowledge and be able to offer the most appropriate and innovative procedures.

Do you need a remote second opinion?
Our professionals will provide you with a medical evaluation without you having to leave your home.
Advanced diagnosis and treatment for better patient care
IN NAVARRE AND MADRID
Esophageal motor disorders.

Gastro-oesophageal reflux disease and its complications: stricture, oesophagitis, Barrett's (without and with dysplasia).

Oesophageal stenosis: peptic, actinic, tumoural...

Eosinophilic esophagitis.

Hiatus hernia.

Acute, chronic and autoimmune gastritis.

Peptic ulcer and H. Pylori infection.

Gastric tumours.

Coeliac disease and other malabsorptive syndromes.

Functional digestive pathology: functional heartburn, dyspepsia and irritable bowel syndrome.

Colon cancer and familial polyposis (CAR genetic study).
Inflammatory bowel disease, ulcerative colitis, Crohn's disease, microscopic colitis (collagenous or lymphocytic).

Food intolerances: fructose, lactose and non-celiac gluten.

Dysbiosis / bacterial overgrowth.

Upper and lower digestive bleeding.

Constipation.

Acute and chronic diarrhoea.

Anal pathology: haemorrhoids and anal fissures.

Acute and chronic pancreatitis.

Pancreas divisum.

Pancreatic cysts and tumours.

Biliary and vesicular pathology.
Gastroscopy.

Colonoscopy.

Anuscopy.

Rectosigmoidoscopy.

Endoscopic tattooing.

Enteroscopy with capsule.

Esophagoscopy with capsule.

Colonoscopy with capsule.

Panendoscopy with capsule (assessment of the whole digestive tract).



Upper endoscopy.

Lower endoscopy.

Balloon enteroscopy.

High resolution esophageal manometry.

Anorectal manometry.

24 hour pHmetry.

Impedance-pHmetry of 24 hours.

Bravo capsule placement (registration 48 hours - 96).

Endoscopic retrograde cholangio-pancreatography.
Polypectomy.

Mucosectomy.

Submucosal dissection (SSD).

Submucosal resection by means of tunneling (STER) of subepithelial tumours.

Transmural resection (TRE).

Endoscopic peroral myotomy (POEM).

Electrocoagulation.

Argon gas coagulation.

Radiofrequency ablation in lesions of the digestive tract and neighbouring lesions.

Extraction of foreign bodies.

Placement of tubes (nasogastric, nasoenteral or colon).

Endoscopic dilation (high or low) with balloon or rigid (Savary).

Injection of sclerosing substances.

Haemospray application.

Placement of mechanical locking devices; clips, Ovesco, Padlock....

Diverticulectomy (Zenker).

Gastrostomy and jejunostomy.
Placement of intragastric balloon for obesity.

Apollo System (Gastroplasty) for obesity.

RETo or TORe system for obesity.

Placement of elastic bands.

Placement of stents in the digestive tract.

Treatment of anastomotic leaks with Eso-Endo-sponges.

Endoscopic Sphincterotomy (ERCP).

Placement of biliary and pancreatic stents.

Infiltration of the celiac plexus.

Pseudocyst drainage guided by echoendoscopy.

Echoendoscopic guided biliary drainage.

Echoendoscopic guided vesicular drainage.

Echoendoscopic guided pancreatic drainage.

Echoendoscopy-guided substance injection.

Echoendoscopy-guided device placement (coils, see).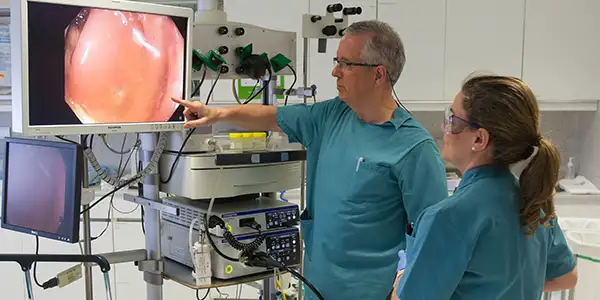 Endoscopy
Unit
Aimed at the diagnosis and treatment of pathologies associated with the digestive system, we have extensive experience in endoscopic techniques for exploring the digestive tract.
We are pioneers in the use of certain procedures such as the application of CO2 in the performance of colonoscopy.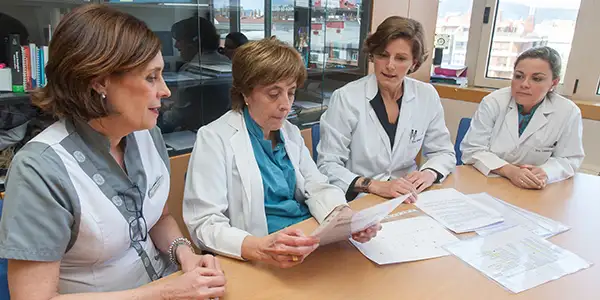 High Risk Digestive Tumour Prevention and Consultation Unit
Our goal is to determine the risk of contracting the tumoural disease in families of patients, as well as to ensure the appropriate follow-up to prevent them from suffering from it.
By means of genetic studies, we can treat the patient in a personalised manner and foresee the risk of illness for him/her and his/her family members.
CLOSER TO THE PATIENT
Specialized nursing
Experienced in diseases of the digestive system, the nursing team provides comprehensive medical care, offering the patient the most complete and scientific care.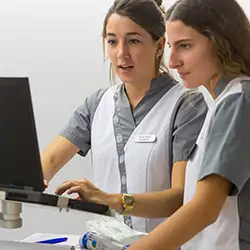 Continuous monitoring
We offer a personalized follow-up with the availability of constant and updated information on the case.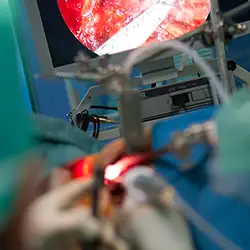 Safety for the patient
Specialised knowledge provides greater quality and safety in medical care processes.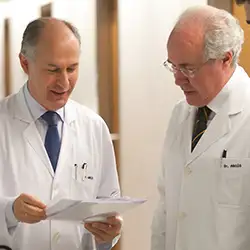 Integrated care
Our teamwork allows for enrichment to the benefit of patient care.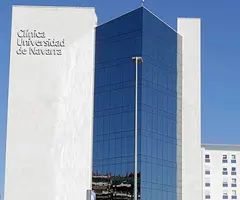 Why choose the Clinic?
Integral evaluation of the patient.
Personalised diagnosis.
Cutting-edge technology.
Our team of professionals
Pioneers in research into new treatments for colon cancer
The Department of Digestive Diseases is conducting various clinical trials in relation to different pathologies of the digestive tract.
Participation in these trials provides patients with new possibilities by allowing access to the latest therapeutic advances.
We help our patients to overcome their stories
Their testimonies encourage us to continue improving our services