why we

research

Research is one of the main strategic principles at the Clínica, with special emphasis on the development of lines of translational research. Our objective is to quickly apply our results in order to improve our patient care, perfect our diagnoses, improve our treatments and help find cures.

Our experts collaborate with the Center of Applied Medical Research (CIMA) and the Science faculties at the University of Navarra. The biggest lines of research currently being developed are in Oncology, Haematology, Hepatology, Psychiatry, Cardiology, Neurology and Ophtalmology.

The Clínic promotes and facilitates clinical research work in alll its phases though its Central Unit of Clinical Trials and Clinical Research Unit.
conozca nuestra

INVESTIGACIÓN PRECLÍNICA

El proceso de descubrimiento de nuevos fármacos en el Cima Universidad de Navarra se centra inicialmente en enfermedades específica en respuesta a las necesidades del paciente.

Los científicos encargados de ello buscan sustancias biológicas del cuerpo humano que actúen ante enfermedades concretas. De este modo, descubren moléculas únicas que podrían formar parte de medicamentos en un futuro.

En las primeras fases de la investigación, los científicos del Cima Universidad de Navarra estudian cómo el nuevo compuesto se metaboliza en el organismo e interviene en la enfermedad. Asimismo, se investiga cuál es la dosis requerida para que el medicamento sea eficaz y no tóxico para el paciente.

A continuación, comienzan las fases de los estudios clínicos, ya en humanos.
what is a

clinical trial

A clinical trial with medicines is a research project conducted on human beings with the objective of describing or verifying the effects of medications for the purpose of defining their effectiveness and safety.

In order for one to appreciate the importance of clinical trials, it is important to underscore that nearly all the treatments available at this time are the direct result of clinical research.

These studies represent opportunities for new therapeutic lines for patients who have exhausted all the standard treatments.
Learn about the clinical trials' most important phases and milestones. [Inphography only available in Spanish]
Download document
Phases of a trial
Phase I
The study is conducted on healthy volunteers, people in a good state of health who do not have the disease for which the medicine is being tested. The research centers on the safety of the medication in humans.
Phase II
The new medication is administered to a limited number of ill patients for a short period of time. The objective is to obtain preliminary data on its safety and benefits with respect to the disease's treatment or prevention. Unlike in Phase I, Phase II patients suffer from the disease in question.
Phase III
This is the last link in the trial process for new medicines on humans. When Phase III studies are completed and the researcher can demonstrate that the medicine is safe and effective under certain conditions, at this point the government can approve its release onto the market. During this phase the number of ill patients to whom the new medication is administered is much greater.
Phase IV
This is carried out once the medicine is already on the market. It generally measures the effects of the medicine in the long term or studies new indications.
Types of clinical trials
Open
When everybody involved in the trial knows that the treatment is being tested.
Blind
The researchers know the treatment that is being employed, but the patients do not know who amongst them is receiving the medication being tested and who is only receiving a placebo.
Double blind
Neither the researchers nor the patients know who is actually receiving the treatment. Only the researchers can verify the medication administered to a patient, if necessary to protect his safety.
Abierto
Cuando todo el mundo implicado en el ensayo conoce el tratamiento que se está probando.
Ciego
Los investigadores saben el tratamiento que se está usando, pero los pacientes no saben a quién de ellos se le está suministrando el medicamento objeto de la prueba y quién está recibiendo placebo.
Doble ciego
Ni los investigadores, ni los pacientes conocen quién está recibiendo el tratamiento. Sólo los investigadores podrían llegar a conocer la medicación administrada al paciente si fuera necesario para proteger la seguridad del paciente.
what we do
TRIALS IN PHASE I
These are studies conducted on healthy volunteers.
The University of Navarre's Clinical Research Unit conducts these types of trials at specialized facilities and with a team of multidisciplinary professionals.
TRIALS IN PHASE II, III AND IV
These are studies in which patients with the disease participate, or other clinical organizations that can contribute to the research.
At the Central Unit of Clinical Trials management of and attention to patients in trial phases II, III and IV are unified.
Be part of our research
¿Está interesado en alguno de nuestros ensayos?
Participar en alguno de ellos puede ofrecerle nuevas posibilidades de tratamiento. Asimismo, podrá colaborar en el avance de la Medicina.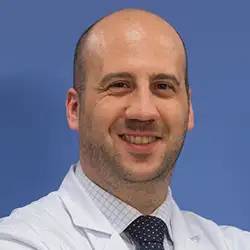 Clinical trials are approved by health agencies and by the Ethics Committee of the Clinica to ensure patient safety".
pertenecemos al

CIBER
La Clínica Universidad de Navarra es una entidad consorciada con el Centro de Investigación Biomédica en Red (CIBER).
Su objetivo es impulsar la investigación de excelencia en Biomedicina y Ciencias de la Salud que se realiza en el Sistema Nacional de Salud y en el Sistema de Ciencia y Tecnología.
Concentran esfuerzos y recursos interdisciplinares y multiinstitucionales de investigación, con una dedicación preferente de recursos financieros en torno a redes de conocimiento conformadas por centros y grupos de investigación dependientes de distintas administraciones e instituciones públicas y privadas.

you may

BE INTERESTED

The Clínica is the greater private hospital with technological equipment of Spain, all in a single center.

The professionals of the Clínica perform continuous research and training, always to the benefit of the patient.

Learn why we are different from other healthcare centers. Quality, speed, comfort and results.