Services of the Clínica Universidad de Navarra
Pamplona Location
We strive every day with the only desire to offer the most advanced treatments and provide excellent treatment.
Patient and family services
Patient Service
The objective of the Clinic's Patient Care Service is to help you solve any need, problem or incident that you may have during your stay or visit to the Clinic.
The department manages everything related to information, guidance and processing of suggestions and complaints received from patients and their families.
HOURS: Monday to Friday from 08:00 to 19:00 h.
LOCATION: The Pamplona Campus Patient Care Service is located on the first floor of the CLÍNICA UNIVERSIDAD DE NAVARRA.
The offices are located in the corridor giving access to the Phase 3 elevators, in front of the stairs leading down to the basement.

We will assist you in everything you need
Please contact us if you have any complaints or would like to make any suggestions to improve the service we offer.
The Clinica has a service of accommodation in rooms of the center, as much for companions of admitted patients, as for outpatients.
The service is offered in two modalities:
Day: accommodation during the day for free use (rest, work, ...). It does not include diets.
Night: accommodation with night included. It admits a companion. It does not include diets.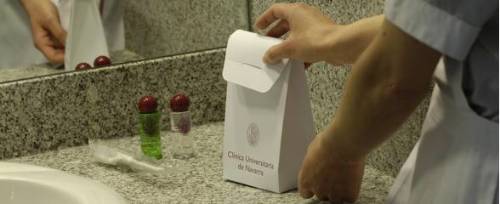 | TIMETABLES - DAY ACCOMMODATION | |
| --- | --- |
| Monday to Friday | 08:00 to 22:00 h. |
| Saturdays | 09:00 to 13:30 and 16:00 to 19:00 h. |
| Sundays | 13:00 to 21:00 h. |
NON-PATIENT SCHEDULES - OVERNIGHT ACCOMMODATIONS
Access to the room is at the patient's request, taking into account the opening hours of the clinic's doors.
SERVICES
The rooms have full bathroom, telephone, television and wifi.
CONTACT
Mail: atpacientecun@unav.es
Phone: (+34) 948 255 400
The Clinic has a paid public parking lot for patients and visitors, located in the Consultation area.
You can access it through Irunlarrea Street, perpendicular to Pío XII Avenue and located to the left of the Clinic's main entrance. Once on this street, you will find the entrance to the parking lot at the first traffic circle.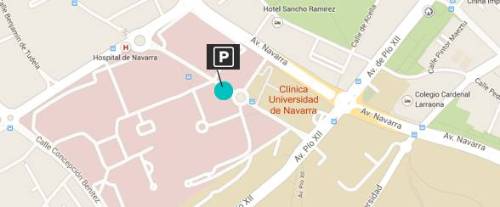 | RATES | |
| --- | --- |
| 1st hour | 2,25 € |
| 8 hours | 9,50 € |
| From 9 h. to 24 h. | 10,00 € |
The Clinic's Cafeteria is located on the first floor. It offers patients, families and visitors a restaurant service (menu, daily menu, combined dishes and special diets) and bar.
Its ample schedule allows visitors to access it at any time of the day, as well as to request take-out meals.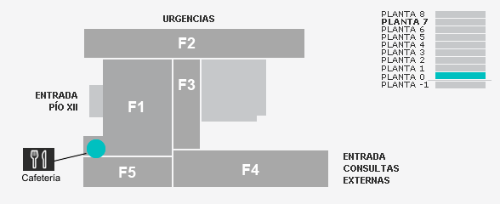 | PRICES | |
| --- | --- |
| Menu of the day | 15,15 €* |
SCHEDULES
Weekdays, from 08:00 to 22:00
Weekends and holidays, from 08:00 to 21:30
On the first floor you will find ATMs from different banks, available for the convenience of patients and companions.
The ATMs are accessible for Servired, 4B and Euro6000 cards.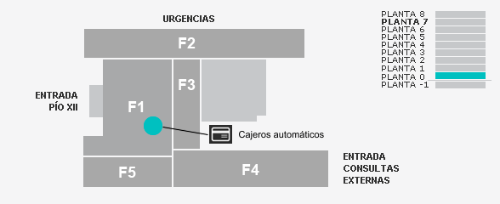 The Chaplaincy is a Service of human and spiritual care and of the administration of the Sacraments (especially Penance, the Holy Eucharist, and the Anointing of the Sick) that the University of Navarra Clinic offers to the sick and those who accompany them.
If you belong to another religious confession, the chaplains can facilitate contact with you so that you can receive spiritual care.
Our chaplains are always available to attend to the sick, at any time, and periodically visit the hospitalization floors to talk with patients and those accompanying them who wish to do so.
The Oratory is located on the 1st floor of the Clinic.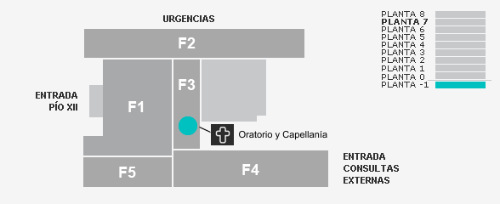 Oratory
The Oratory is open from 07:00 to 09:30 and from 10:30 to 22:30.
Confessions
Available 30 minutes before each celebration of the Holy Mass.
Masses
Working days:
7:25, 8:00, 13:30, 19:00
Saturdays, sundays and holidays:
8:00, 12:00, 20:00
The office of the Chaplaincy Service is located on floor -1, next to the Oratories.
Director:
Fr. Jorge Iriarte
Secretarial attention:
Fr. Jesús Ruiz de Gaona
Chaplains:
Fr. Luis Alfonso de Blas Arroyo
Fr. Miguel Angel Monge
Fr. Angel Roitegui Ortiz de Zárate
Fr. Claudio Urbano
The Clinic offers a free luggage service for patients who arrive with suitcases, bags or any type of luggage.
The two main entrances to the Clinic have a left-luggage service at their respective information offices (main entrance hall - Avenida Pío XII - and external consultation hall - Avenida Irunlarrea-).
It is recommended not to bring valuables. If you do bring them, you may deposit them for safekeeping at the Admission Service.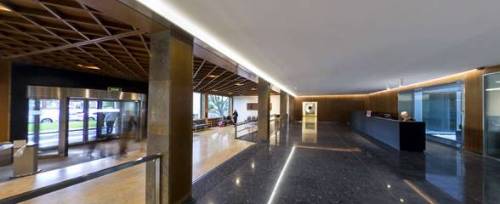 The Clinic offers patients a free service of information, management and reservation of transportation and accommodation.
Through the Call Center, the Clinic works with a travel agency to facilitate the arrival and stay in Pamplona of its patients and their companions.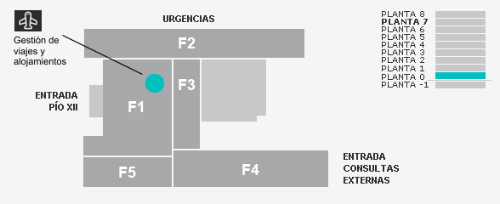 The Travel and Accommodation Management Service is attended by the Clinic's Call Center, available 365 days a year, 24 hours a day, on (+34) 948 255 400.
For questions about the accommodation service for family members within the Clinic, you should contact the Admission Service:
Monday to Friday: 8 to 22 h.
Saturdays: 9 to 13:30 h and 16 to 19 h.
Sundays: 13 to 21 h.
Mail: atpacientecun@unav.es
On the first floor, next to the main entrance (Avenida Pío XII), is the bookstore with a wide selection of books on narrative, thought and children's and young people's literature.
There is also a daily press, magazines and stationery products.
The bookstore has a gift section where you can choose, among other products, jewelry, accessories, institutional items, as well as toys, stuffed animals and other gifts for children.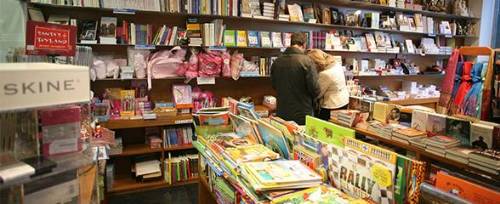 | | |
| --- | --- |
| Working days | 08:30 to 20:00 h. |
| Saturdays | 09:00 to 14:00 h. |
| Sundays and holidays | 09:00 to 14:00 h. and 16:30 to 19:30 h. |
| JULY AND AUGUST | |
| --- | --- |
| Working days | 09:00 to 14:00 h. and 16:30 to 19:30 h. |
| Saturdays | 09:00 to 14:00 h. |
| Sundays and holidays | 09:00 to 14:00 h. |
You can access a Wi-fi connection from any mobile device through the AbiertaCUN network. You will be asked for a mobile number to which you will be sent a code with which to complete registration in order to use the network.