General and Digestive Surgery
"Our centre, being a pioneer in the implementation of new surgical techniques, is a national and international benchmark centre".
DR. FERNANDO ROTELLAR DIRECTOR. GENERAL AND DIGESTIVE SURGERY DEPARTMENT
The Clinic's Department of General and Digestive Surgery is integrated by a team of professionals who are highly experienced in the surgical treatment of diseases related to the abdominal area, such as endocrine or pancreatic diseases.
We are pioneers in the implementation of new surgical techniques, for which we stand out as a centre of reference both at national and international level.
We work jointly with other departments in order to offer the best therapeutic plan to the patient and to establish new protocols that will improve the survival and well-being of patients.
Comprehensive care for our patient
IN NAVARRE AND MADRID

DISEASES
Colorectal diseases

Breast diseases

Endocrine diseases

Gastrointestinal diseases

Hepatobiliary diseases

Oncological diseases

Pancreatic diseases

Diseases of the abdominal wall
TREATMENTS
Colorectal surgery

Breast surgery

Esophageal and gastrointestinal surgery

Hepatobiliary and pancreatic surgery

The Surgery of Obesity
Bariatric surgery is the most effective mode of achieving long-term weight reduction and improving the health problems linked to this disease.
The Clinic, with a specialized team and over 20 years of experience, is an International Centre of Excellence in Obesity Surgery accredited by the International Federation for Bariatric Surgery (IFSO).

Liver transplantation
At the Clinic we are at the forefront of performing living-donor liver transplants in Spain.
We have achieved magnificent results; in particular, the percentage of patients who have successfully undergone the total removal of the tumour is one of the highest in the country, a survival rate of 90% in patients transferred from the liver one year after the operation and nearly 85% five years later.
PERSONALISED TREATMENT
Innovative techniques
We boast extensive experience in laparoscopic colorectal surgery, of the adrenal gland, liver and pancreas, as well as in obesity surgery.

Specialised nursing
A team of nurses highly specialised in the surgical area and in post-operative care, for the rapid recovery of our patients.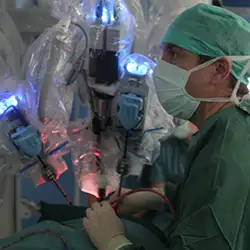 Cutting-edge technology
Operating rooms equipped with the latest technology to perform all types of operations with the highest quality and safety conditions.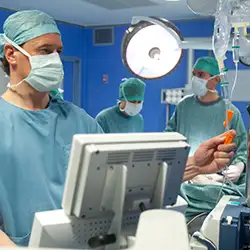 Teamwork
We are part of the multidisciplinary areas of the Clinic in order to offer the best surgical alternative, at the most appropriate time for the patient's recovery.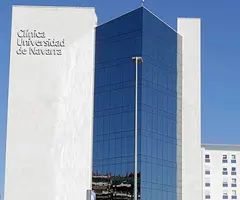 Why choose the Clinic?
Cutting-edge therapeutic technology.
International reference professionals.
Safe and minimally invasive surgeries to ensure the rapid recovery of our patients.
Our team of professionals
More rapid recovery and better aesthetic results
Laparoscopic Surgery
Laparoscopy is the alternative to conventional open surgery that uses a small camera to view inside the abdomen.
A minimally invasive technique reduces hospital stays, minimises post-operative discomfort and shortens the recovery process.
We help our patients overcome their stories
Your testimonials encourage us to continue improving our services.