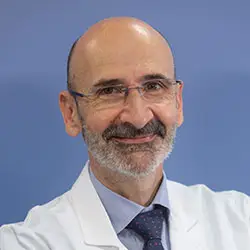 Dr. Fernando Rotellar
General Surgery Specialist
Area of Expertise: Obesity Surgery
Works at:
Navarre headquarters
Be part of:
Clínica Universidad de Navarra
Cancer Center Clínica Universidad de Navarra
Professional career
Graduated in Medicine and Surgery by the University of Oviedo in 1995 and Doctor by the University of Navarra in 2008.
Specialist in General and Digestive Surgery at the Clínica Universidad de Navarra in 2001.
European Board of Surgery (EBS) Qualification in Transplantation Surgery (Multiorgan retrieval, Liver transplantation): Paris, 2009.
European Board of Surgery (EBS) Qualification in Biliary Hepato or Pancreatic Surgery: Cape Town, 2011.
IFSO-Surgeon of Excellence for Bariatric and Metabolic Surgery. EAC-BS accreditation in 2011 and renewed in 2015.
He has completed his training with stays in several foreign centers in America, Europe and Asia, especially those dedicated to Living Donor Liver Transplantation (Rochester, 2001), application of the laparoscopic approach to Living Donor Liver Transplantation (New York, 2012) and application of Robotics in Hepatobiliopancreatic Surgery (Charlotte, 2018).
The latter two thanks to the Spanish Society of Liver Transplantation Scholarship and the Senior Scholarship of the College of Physicians of Navarra, respectively.
RESEARCH AREAS
It is part of 10 research projects.
AREAS OF INTEREST
He has developed his activity mainly in the field of bariatric surgery and especially in hepatobiliopancreatic surgery. His contribution to the development of minimally invasive techniques in liver and pancreas surgery and in living donor liver transplantation is particularly noteworthy.
Activity
As an educator
Associate Professor of the School of Medicine of the University of Navarra since 2008, teaching various subjects related to General Surgery.
As a researcher
He is the author or co-author of more than 127 specialized publications and two Masters in Surgery, and has been invited to give more than a hundred lectures at national and international congresses and courses.
Latest scientific publications