Parkinson's
disease
Learn more about Parkinson's disease
Parkinson's disease is a neurodegenerative disease of the central nervous system whose main characteristic is the progressive death of neurons in one part of the brain.
The most significant consequence of this neuronal loss is a pronounced drop in the brain's availability of dopamine, the main substance synthesised by these neurons, which causes dysfunction in the regulation of the main brain structures involved in controlling movement.
This disease usually occurs after the age of 60, increasing progressively up to the age of 80. The incidence between these ages is 1-2/1000 individuals affected.
However, there are earlier cases: 5%-10% of patients are younger than 40, and there are even juvenile cases during the second decade of life.
What is Parkinson's disease, diagnosis and treatment. [Infography only available in Spanish]
Download document
Pharmacological treatment of Parkinson's. [Video only available in Spanish]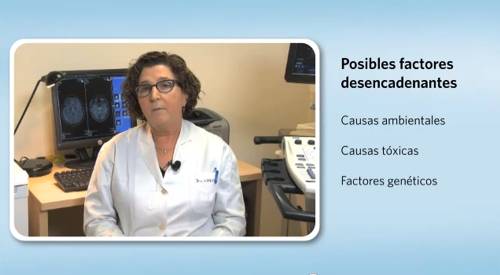 What is Parkinson's disease and what causes it. [Video only available in Spanish]
The symptoms mostly affect the patient's motor function:
Generalised slow clumsiness in performing movements.
Little spontaneous motility.
Resting tremors.
Stiffness
Typical manifestations are loss of facial expression, lack of automatic movements, including blinking and arm swinging while walking, and bending the chest forwards while walking.
As the disease progresses, other symptoms can appear:
Difficulty walking, mainly when starting to walk and when turning.
A certain degree of depression and autonomic dysfunction (urinary urgency and incontinence, sleep disorders, etc.).
Impaired righting reflexes (resulting in falls).
A certain degree of cognitive impairment, in some cases after many years of disease progression.
The evolution of Parkinson's disease varies significantly. In some patients, the neurodegenerative process progresses very slowly, while in others the progress is faster.
The specific cause of Parkinson's disease is unknown, but there are numerous causes that might be involved.
These include genetic factors, given that approximately 5%-10% of patients with Parkinson's disease have a family history of the disease. It could also be the result of ageing, infections and trauma.
However, a genetic-environmental interaction is the most probable cause. The reduced content of dopamine produces a change in the concentration and action of this substance in the striatum nucleus, which causes movement incoordination.
Parkinson's disease is a chronic disease, with a long evolution and progressive course.
Motor impairment and the complications related to taking medication involve a significant degree of disability, although the evolution of the disease is variable.
Currently, surgical treatment using stimulation or lesioning of the subthalamic nucleus or internal globus pallidus provides considerable improvement in the quality of life of these patients.
The ideal candidate for subthalamotomy is a patient with symptoms and signs eminently unilateral of Parkinson's of several years of evolution, as well as those who for some specific reason cannot undergo an implantation of a stimulator."
you may

BE INTERESTED

Learn why the Clínica Universidad de Navarra is different from other hospitals.

Want to participate in our clinical trials? Learn which ones are active.

Know what we do for our international patients