Sleep
"The Sleep Disorders Unit is accredited by the Spanish Committee for Accreditation in Sleep Medicine, endorsing our quality standards".
DR. ARANTZA CAMPO EZQUIBELA PERSON IN CHARGE. SLEEP UNIT

The Sleep Unit is made up of a multidisciplinary team that deals with sleep disorders in a coordinated manner and offers a rapid response to the patient.
Sleeping well is essential for a good state of health. An adequate rest in which not only the quantity of hours matters, but also the quality of sleep in all its stages.
Rest will allow you to perform properly, think clearly, react with agility and settle the memory. In addition, it prevents from suffering diseases like heart attacks, ictus or depressions.
A quality of sleep that is analyzed by the Sleep Unit by means of personalized studies that allow to establish a plan of action that improves the day to day of the patient and prevents the appearance of future illnesses.
Cutting edge diagnosis and treatment for better care
IN NAVARRE AND MADRID

DISEASES
Parasomnias

Circadian rhythm disorders

DIAGNOSIS PROCEDURES
Ambulatory respiratory polygraphy

Maintenance of wakefulness test

Immobilization test TREATMENTS
Cognitive-behavioral therapy of insomnia

Drugs

CPAP

Palatal surgery
DIAGNOSIS AND PERSONALIZED TREATMENT
Excellence in care
Accredited by the Spanish Sleep Society, the Unit has the most advanced equipment to address the disease in a comprehensive manner and offer the patient the best diagnosis and specific treatment in each case.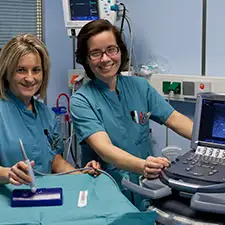 Nursing
specialized
Performing diagnostic tests necessary for the detection of sleep problems.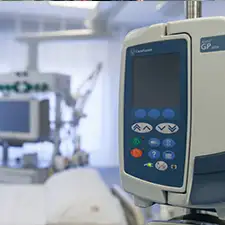 Facilities

Sleep studies are conducted in rooms equipped with a control area.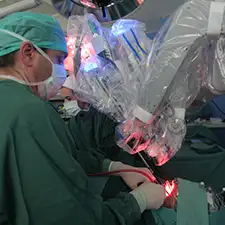 Treatment
of cutting edge
The best medical technology and a highly specialized team for adequate patient care.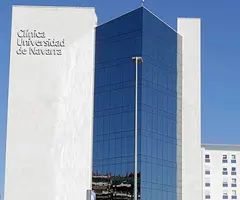 Why at the Clinic?
Integral evaluation of the patient.
Personalized diagnosis.
Cutting edge technology.
Our team of professionals
A minimally invasive treatment
to solve obstructive sleep apnea syndrome
Maximum security
Robotic surgery
In a pioneering way, the Clinic has the Da Vinci robot for the treatment of apneas. This is a minimally invasive intervention, which leaves no external signs on the skin, with a high percentage of benefit for the patient.
A specialized team will assess the patient's suitability, which will be operated to leave enough space in the back of the oral cavity to avoid obstructing the passage of air while sleeping.
We help our patients to overcome their stories
Their testimonies encourage us to continue improving our services