Specialised in smoking and diseases caused by tobacco, the department has more than 10 years´ experience in helping patients to give up smoking and the early detection of lung cancer.
The department´s specialists have received training from the world´s leading centres, including hospitals in the United States, and have extensive experience in the diagnosis and treatment of all respiratory diseases, from the most common to the very rare.
The nursing team administers the necessary care procedures, carrying out follow-up evaluations of the patient´s progress and attend to all their requirements, offering them the highest quality of care possible.
The Pneumology specialists are part of the Clínica´s Sleep Unit and work alongside specialists from Otorhinolaryngology, Neurophysiology and Maxillofacial Surgery, as well as the Lung Cancer Department, and specialists from Oncology, Radiology, Nuclear Medicine and Thoracic Surgery.
On top of leading clinical care, research and teaching are also two key factors of the Pneumology Department. As a result of our various research projects, the Clínica Universidad de Navarra is leading in the early detection of lung cancer, the use of endobronchial valves for treating severe emphysema and in the innovative treatments for the most serious diseases.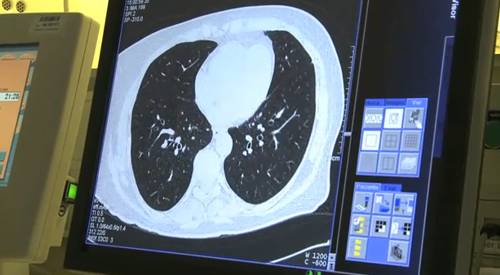 Performing an annual preventive CT is effective in reducing lung cancer deaths. [Video only available in Spanish]
Women who smoke have almost double the chances of contracting lung cancer than men who smoke the same amount, although their prognosis is better".
our

PROFESSIONALS
Pneumology
selector carrusel
you may

be interested

Learn why the Clínica Universidad de Navarra is different from other hospitals.

Want to participate in our clinical trials? Learn which ones are active.

Know what we do for our international patients