HIFU, treatment for tremor without surgery
"HIFU treatment in patients with essential tremor or Parkinson's disease avoids open surgery and can also be performed on patients who are not surgical candidates due to their age or other reasons".
DR. LAIN HERMES GONZÁLEZ SPECIALIST. NEUROSURGERY DEPARTMENT
What is HIFU?
The Clínica Universidad de Navarra incorporates the most advanced model of high intensity ultrasound for the treatment of patients with essential tremor and the tremor, rigidity, and clumsiness that appear in Parkinson's disease.
In the vast majority of cases, the tremor improves immediately, an effect from which the patient benefits in a single session.*
As it is a non-invasive procedure, no previous admission is required and, after the session, the patient is discharged within 24 hours. As in any treatment, side effects may appear which, in most cases, tend to resolve in a few weeks.
One month later the patient will be checked again and, from that moment on, the follow-up required by the specialists will be determined.
*Request more information from your doctor.
Why choose the Clínica Universidad de Navarra
We have been the best private hospital in Spain eighth years in a row (2022 Health Reputation Monitor Ranking)
Tremors improve after the first session
Learn more about HIFU to treat tremor
In what type of tremor is HIFU performed?
This technique is used to target essential tremors and Parkinson's tremor, as well as for treatment of other Parkinson's symptoms such as stiffness or slow movements.
Ultimately, patients who are left with deep brain stimulation as their only alternative for treatment can now avoid surgery with this new treatment.
Patients should be assessed in an appointment with a neurologist to determine whether they are a candidate for this procedure.
Generally, the following may be candidates:
Patients whose tremors and other symptoms show a partial response to treatment.

Patients who, given their health condition, age, etc., are not candidates for surgery.
How is HIFU performed?
The treatment works in the same way as a magnifying glass focusing the sun's rays to concentrate heat on a certain point.
This is how our HIFU equipment works. This technology captures the heat from thousands of ultrasound pulses and concentrates them on a single target: the group of neurons involved in the tremor.
This is a non-invasive procedure (i.e. no surgery is required); instead, it is performed in the MRI scanner room. The patient is awake, and a stereotactic frame is fitted onto their head; a silicone membrane containing water is used to cool the skin to prevent it from being damaged.
After localizing the surgical target using MRI imaging, the neurosurgeon begins to apply the ultrasound, which will increase in intensity based on improvements seen in the patient, until the maximum effect is achieved.
Do you have tremor that affects your quality of life?
You may be a candidate for non-surgical HIFU treatment
THE MOST PRECISE COMBINATION
MRI 3 Teslas and HIFU
High-intensity focused ultrasounds are applied under MRI guidance, making it possible to monitor treatments for essential tremor, as well as the tremor, stiffness and loss of dexterity prevalent in Parkinson's, including thermal monitoring during the procedure.
What does the HIFU treatment process involve? Appointment with a neurologist.

A cranial CT scan is performed.

Appointment with a neurosurgeon. Patient preparation.

HIFU procedure.

Depending on the patient's progress, an MRI will be performed a few months after the procedure. A review with our specialists to assess progress several weeks after the procedure.
"HIFU treatment is a breakthrough for patients who see significant improvements in their quality of life."
More than 250 interventions with HIFU to date, of which 92 are Parkinson's patients. In this session, we have the presence of two patients treated at the Clinica who tell their experience and how HIFU has changed their lives.
Where do we do it?
IN NAVARRA
The Department of Neurology
of the Clínica Universidad de Navarra
The Neurology Department has extensive experience in the diagnosis and multidisciplinary treatment of neurological diseases.
We offer a diagnosis in less than 72 hours, along with a proposal for personalized treatment and post-consultation follow-up of the patient by our specialized nursing team.
We have the most advanced technology for an accurate diagnosis with cutting-edge equipment such as HIFU, deep brain stimulation devices, video EEG, PET and epilepsy surgery, among others.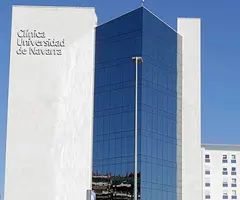 Why at the Clinica?
State-of-the-art diagnostic assistance with great work in research and teaching.
Specialized nursing team.
We work together with the Sleep Unit.
Our team of professionals
We help our patients to overcome their illnesses
Patient testimonials help us to continue improving our services