Radiology
"We have the most advanced technology in Spain for the rapid and accurate diagnosis of our patients".
DR. GORKA BASTARRIKA CODIRECTOR. RADIOLOGY SERVICE
In the Radiology Service we have a team of specialists with great experience and the most advanced technology for the radiological diagnosis of various pathologies.
We have the most innovative diagnostic and therapeutic technology in Spain in the area of Radiology with the aim of being able to make a quick diagnosis with maximum precision so that our patients can be treated with the best results.
Interventional Radiology is one of our main activities to treat our patients through a minimally invasive approach by percutaneous route.
Thanks to the development of technology and the management of big data we have an unimaginable capacity of the radiologist to produce very detailed reports of what he or she observes in the images.
Thus, we collaborate closely in the therapeutic orientation of patients, working together and constantly with the clinical departments that treat our patients.

Do you need a remote second opinion?
Our professionals will provide you with a medical evaluation without you having to leave your home.
Specialized areas for better care
EN NAVARRA Y MADRID

NECK AND CHEST AREA
Chest radiology

Thyroid study

Pulmonary nodule

Radiofrecuencia de nódulo tiroideo

High-field magnetic resonance imaging

Dual-source CT

Cardiac Imaging Unit

ABDOMEN AREA
Virtual Colonoscopy

Conventional ultrasound

Interventional ultrasound

Ecografía intraoperatoria

Colonic transit and defecography

Functional pelvic magnetic resonance imaging

Abdominal magnetic resonance imaging

Abdominal CT

MUSCULOSKELETAL AREA
Image-guided percutaneous biopsy

Eco-Doppler

Elastography of the musculoskeletal system

Radiology with high quality digitization

Musculoskeletal CT with dual-source technology

Tractography of the musculoskeletal system

NEURORADIOLOGY AREA
High-field intraoperative magnetic resonance imaging

Diagnostic neuroradiology

Interventional neuroradiology

3D angiography equipment

BREAST AREA
Image-guided biopsy

Breast ultrasound

Mammography with tomosynthesis

High-field magnetic resonance imaging

Dual-source CT

VASCULAR AND INTERVENTIONIST RADIOLOGY AREA
Digital angiography

Joint embolization

Hemorrhoidal embolization

Embolización prostática

Magnetic resonance lymphography

Intra-arterial chemotherapy

Radioembolization and Chemoembolization
DIAGNOSIS AND PERSONALIZED TREATMENT
Advanced technology
We are the private center with the largest technological equipment in Spain. Thanks to this, we offer the maximum diligence and comfort to our patients since it allows us to perform the necessary diagnostic tests in less than 72 hours.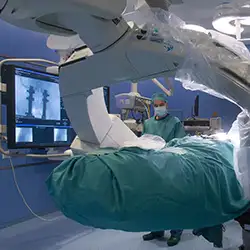 Hybrid Operating Rooms
Diagnostic imaging technology combined with state-of-the-art image-guided surgery, maximum intraoperative precision.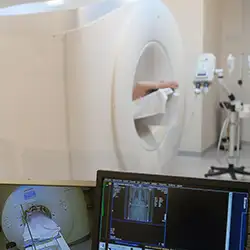 Dual-source CT
We have the latest ultra low dose radiation CT available on the market, which allows for a more precise and complete whole body scan, with artificial intelligence to achieve greater safety and accuracy for the patient.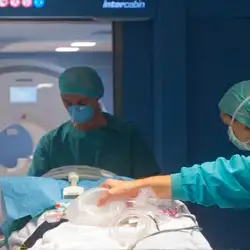 3Teslas MRI
An intraoperative magnetic resonance imaging (MRI) of 3 Teslas that improves the diagnosis and allows to perform the most pioneering techniques in the treatment of different diseases.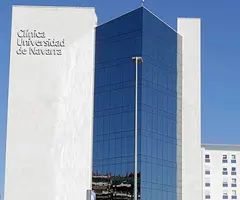 Why at the Clinic?
Integral evaluation of the patient.
Teamwork with the rest of the departments that care for the patient.
Specialists who are an international reference.
Our team of professionals
Precise diagnosis for the patient
The Radiology Service is carrying out studies on different diagnostic equipment with the aim of improving its functionalities and achieving a more precise diagnosis of the disease.
Participating in clinical trials offers new possibilities to patients allowing access to the latest therapeutic advances.
We help our patients to overcome their stories
Their testimonies encourage us to continue improving our services