Ophthalmology department
The Department of Ophthalmology of the University of Navarra Clinic counts with great experience related with diagnosis and treatment of eye diseases in children and adults.
We offer innovative pharmacological and surgical treatments including the use of several kinds of laser techniques. We are also pioneers in cornea transplant with excellent results.
Our specialists participate in important national and international clinical trials, some of which facilitate the application of safe and innovative treatments to volunteer patients.
We are one of the few Departments of Ophthalmology in Spain that count with an experimental operating room. This experimental operating room is used by our specialists to practice new surgical techniques and consolidate the current techniques on artificial or animal samples brought from England.
We also have an Ophthalmology Emergency Service, available 24 hours a day, every day of the year.
After hospital discharge, if you have any doubts or problems, we take care of you at any time.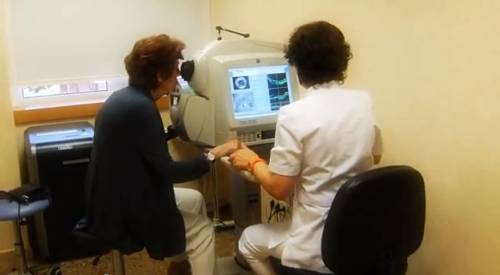 Macular degeneration is an ocular degenerative disease that causes important visual impairment.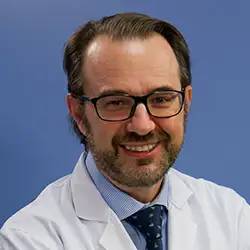 We count with a multi-disciplinary team that covers all the areas of Ophthalmology and guarantees that through team work, every situation will be attended by an expert in each field".
The professional experts of the University of Navarra Clinic are distributed in different healthcare areas:
The Department of Ophthalmology at the University of Navarra Clinic is one of the few clinics in Spain, that has its own experimental operating room.
This operating room is different because, it is a microsurgery experimental laboratory, which means that surgeries are performed using microscopes.
The main advantage of this operating room is that residents or specialists can practice complex surgical techniques on artificial or animal samples, before intervening on the human eye.
They can practice a new surgical technique or can achieve ability on a certain step of the surgery. Because of this previous practice the real surgery on the patient's eye is faster, with less complications and with a faster recovery.
our

professionals
Ophthalmology
selector carrusel
course for

PROFESSIONALS
Simulator of ophthalmic surgery
For specialists in Ophthalmology
Surgical simulation based on virtual reality allows to increase the performance and efficiency of the time spent in training and ensures an adequate level of safety for the patient.
Training by means of surgical simulators is not only designed for people in training, but experienced surgeons can also try new maneuvers or improve their abilities to solve complications.
you may

be interested

Learn why the Clínica Universidad de Navarra is different from other hospitals.

Want to participate in our clinical trials? Learn which ones are active.

Know what we do for our international patients