Thyroid Disease
"Having a multidisciplinary, experienced and coordinated team is important in any pathology. In thyroid cancer, it is more than important, it is vital".
DR. JUAN CARLOS GALOFRÉ FERRATER COORDINATOR. THYROID CANCER AND ENDOCRINE TUMORS AREA
A multidisciplinary team of specialists that integrate the Area of Thyroid Pathology works together in order to provide patients who suffer from the thyroid problems with an accurate diagnosis.
Using a Fast Track protocol, the team is able to offer the most appropriate diagnosis and treatment for your case within 24 hours. In addition, continuous monitoring is carried out to achieve the desired goals.
The Clinic is a pioneer in the implementation of medical techniques in Spain and worldwide, and is an international benchmark centre for highly specialised procedures.
The surgical team is located in the Area of Thyroid Pathology. Its specialists are committed to minimally invasive techniques, such as the Da Vinci robotic system or endoscopy, with the aim of offering patients the most appropriate procedure for their particular case.
Immediate targeting
of thyroid nodules
Specialists from the multidisciplinary Area of Thyroid Pathology at the Clínica Universidad de Navarra have implemented a Fast Track protocol for the diagnosis and complete treatment of thyroid nodules within 24 hours.
The aim is to avoid or minimise the distress of patients with thyroid nodules in the face of the possibility of suffering from thyroid cancer whilst awaiting diagnosis.
Advanced diagnosis and treatment for thyroid problems
IN NAVARRE AND MADRID

DISEASES

DIAGNOSIS PROCEDURES
Thyroid ultrasound

Cytology - Fine needle aspiration puncture

Thyroid scan

Genetic study - BRAF gene mutation TREATMENTS
Pharmacological treatment

Surgical treatment

Treatment with radioactive iodine

Hormone therapy, chemotherapy and radiotherapy
PREVENTION AND PERSONALIZED TREATMENT
Comprehensive patient care
The best diagnostic and therapeutic strategy is defined from the patient's first visit, as well as the overall assistance to the patient and his or her family, which guarantees the efficient and optimum medical care for the patient.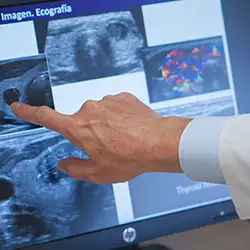 Rapid
diagnosis
The team of specialists from the Thyroid Pathology Area will indicate the most suitable treatment for the patient in his or her specific case and it will at their reach in less than 24 hours.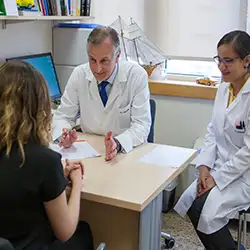 Multidisciplinary
Team
Professionals from different specialities are able to offer each patient the best therapeutic alternative thanks to their coordinated work.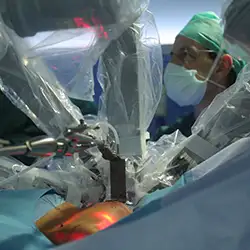 Latest generation
technology
To improve your health and quality of life, we use the DaVinci® robot to perform interventions with minimal aggression.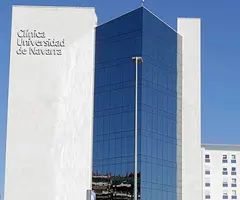 Why choose the Clinic?
Integral evaluation of the patient.
Initiation of personalised treatment within 24 hours from the first consultation.
Minimally invasive surgery to ensure the best possible recovery of the patient.
Our team of professionals