Biochemistry
"We process daily internal quality controls and monthly external quality controls to ensure the highest accuracy in the analysis results".
DR. ÁLVARO GONZÁLEZ HERNÁNDEZ DIRECTOR. BIOCHEMISTRY DEPARTMENT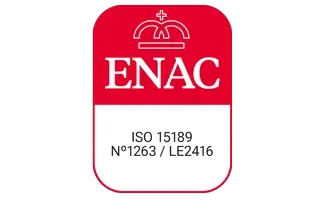 The Clinical Biochemistry Service of the Clinica Universidad de Navarra is responsible for performing the biochemical analyses requested by the medical specialists of our center.
It is also involved in the analytical process of its own research projects or in collaboration with other Services and specialists. It also performs analyses for research teams from the University of Navarra and external centers through the Research Support Laboratory (LAI).
To guarantee the accuracy of the analytical results, it has state-of-the-art equipment and processes daily internal quality controls and monthly external quality controls. It has implemented a Quality Management System according to ISO 15189, being accredited by ENAC (technical annex rev.5 / date 10/09/2021) for spectrophotometry, indirect potentiometry, immunoturbidimetry and immunoassay tests.
The turnaround time for a complete general analysis is about 2 hours, which allows the specialists to have a second consultation with the patient on the same day to inform him/her of the results obtained.
The specialists of the Service teach in the Faculties of Medicine, Pharmacy, Science and Nursing School.

Would you like to contact us?
The Biochemistry Service test catalog is available on request
Organized in assistance areas
Our goal is to make a quick diagnosis in order to establish the most appropriate treatment as soon as possible
The most frequently requested blood and urine parameters are analyzed.
These tests are highly sensitive in detecting damage and its severity, so their results are essential for guiding the diagnosis and monitoring the evolution of patients.
Spectrophotometric, potentiometric and immunoturbidimetric methods are used.
They include endocrinological and metabolic analyses under basal conditions and some parameters that are analyzed under controlled stimulation conditions, using electrochemiluminescence immunoassays and radioimmunoassays (RIA).
Molecules that allow the diagnosis and evolutionary follow-up of different diseases, mainly oncological, are also quantified by means of electrochemiluminescence immunoassays and ELISAS.
Blood and urine magnitudes of interest in the diagnosis and monitoring of nutritional status, inflammatory processes, hematological, renal and immunological diseases are analyzed. As well as cerebrospinal fluid analysis for the diagnosis of some neurological diseases.
The analyses are performed by spectrophotometry, gel electrophoresis, immunonephelometry, immunoturbidimetry and high performance liquid chromatography (HPLC).
Trace elements, metabolites, vitamins and various markers are analyzed by means of highly sensitive analytical technology such as immunoassays, HPLC or atomic absorption.
Breath tests are performed for the study of lactose and fructose intolerance and gastric infections.
Our team of professionals

The Laboratory attends to all the medical departments of the Clinic with the maximum guarantees of quality
Facilities
Biochemistry Laboratory
The Biochemistry Laboratory has a catalog of 350 tests and performs an average of 600,000 analyses per year.
As an essential complement to their teaching and assistance dedication, the Laboratory professionals also focus their efforts on research projects.
For this purpose, the facilities have metabolomics, immunoassay, atomic absorption and liquid and gas chromatography units.