Nuclear Medicine
"The new PET-CT equipment offers better quality in less time. This translates into better diagnostic results, increased safety and reliability in clinical patient management and therapeutic outcomes".
DR. JAVIER ARBIZU LOSTAO DIRECTOR. NUCLEAR MEDICINE DEPARTMENT
The Service of Nuclear Medicine-PET is accredited by the European Association of Nuclear Medicine, which guarantees the excellence and quality control of the procedures carried out within this service. This accreditation also facilitates access to phase I and II clinical trials.
We possess the most advanced diagnostic technology, such as PET-CT, which makes it possible to detect small tumour lesions that were previously practically impossible to identify.
Our Radiopharmacy Unit has expert professionals and the PET-GMP Laboratory, equipped with the latest technical advances and with the maximum guarantee of safety.
In some cases, certain radiopharmaceuticals can be used in the treatment of specific pathologies, such as hyperthyroidism or thyroid cancer, neuroendocrine tumours, etc., in what is known as Metabolic Radiotherapy.
We are also experts in Hospital Radiophysics, which is very useful in medical care, biomedical research and the optimisation of some health activities. It consists of the application of radiation physics for the prevention, diagnosis and treatment of diseases.

¿Necesita que le ayudemos?
Solicite una cita para que le valoren nuestros especialistas
Cutting-edge technology for our patients
IN NAVARRA AND MADRID
Densitometry is a diagnostic test that measures the degree of bone mineralization and is applied both in the early diagnosis of osteoporosis and in the control of its evolution and therapeutic evaluation.
In addition, the latest generation of densitometry equipment allows for the study of the total body distribution and the determination of the fat and lean component. These parameters are very useful in the study of patients with obesity, since they provide a detailed analysis of the body composition.
The gammagraphy is in charge of morphofunctional isotope examinations.
Static and/or dynamic morpho-functional scans are performed using radiopharmaceuticals marked with gamma isotopes.
These scans are applied in the study of a wide variety of systems, such as the osteoarticular, genitourinary, digestive, cardiovascular, respiratory, endocrine and brain systems.
The new SPECT-CT equipment, which allows the fusion of the gammagraphic image with the radiological image, offers more precise information on organs and anatomical structures that are more complex or more difficult to diagnose, such as the heart, the spine, the pelvis and above all brain studies.
The main indications for the SPECT technique are the diagnosis of benign bone pathology in the osteoarticular system, the diagnosis of dementias, epilepsy and cerebral vascular disorders, coronary ischemia, myocardial viability and hepatic haemangiomas.
Blood cells can be marked with radionuclides for use as radiopharmaceuticals based on autologous samples.
We carry out the haematological analyses that are done by marking blood cells with isotopes in the conventional laboratory of Nuclear Medicine, allowing the calculation of
Erythrocyte mass.

Platelet kinetics and platelet sequestration.

Erythrokinetics.

Ferrokinetics.
Perfusion monitoring with TNF (tumour necrosis factor) and melphalan in isolated limbs is performed in patients affected by advanced melanoma and in very advanced and unresectable soft tissue sarcomas located in the extremities.
The treatment of these diseases consists of administering a chemotherapy (melphalan) in combination with TNF. This causes the death of endothelial cells in the tumour vessels, favouring a greater penetration of melphalan, also enhanced by hyperthermia. Both are administered intra-arterially in the limb, isolated by ligation of minor vessels.
The Clinic's Service of Nuclear Medicine has several PET scanners, one dedicated and one multimodality PET-CT scanner.
The diagnostic capacity of the PET test is supported by the production of specific PET radiopharmaceuticals in the GMP laboratory, both for clinical diagnosis and for research.
With this new PET-CT we are able to detect lesions that until now were practically impossible to identify with equipment of these characteristics.
The most relevant PET application areas are Oncology, Neurology, Cardiology, Osteo-muscular system, Gene therapy, inflammatory pathology.
PRECISION DIAGNOSIS
Assistance and research
Our Service of Nuclear Medicine is composed of a number of professionals (specialist doctors, radiopharmacists, radiophysicists, technical and health personnel) who make a continuous effort in terms of care and research with the sole objective of offering an excellent service to our patients.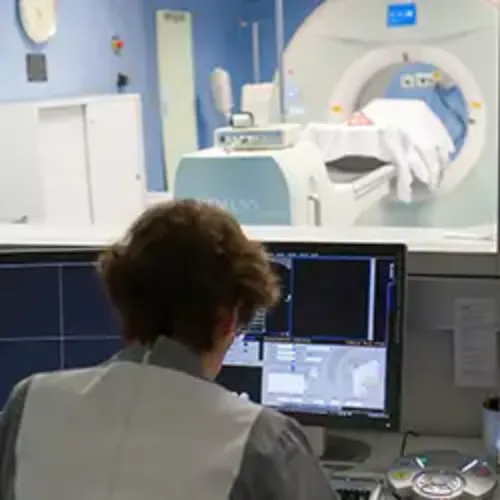 Cutting-edge
technology
We have the most advanced diagnostic technology, such as the latest generation of PET-CT, which is capable of locating small tumour lesions that were previously impossible to detect.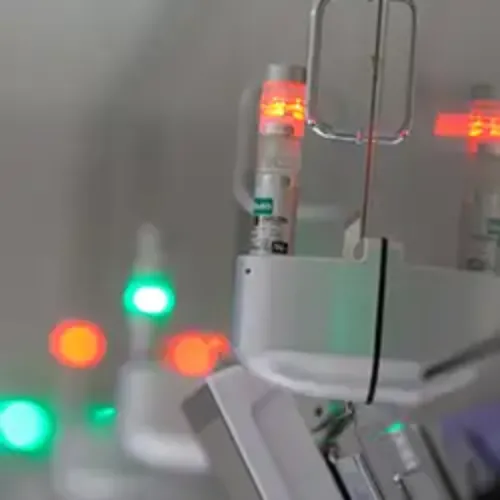 Quality and
Safety
Our Radiopharmacy GMP Laboratory is equipped with the latest technical advances and with the maximum guarantee of safety.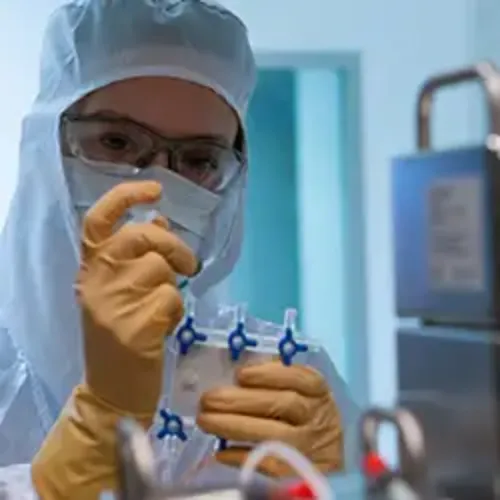 Research
and innovation
Our centre is strongly committed to R+D+i formula and to the professionalism and high level of qualification of the entire team of specialists.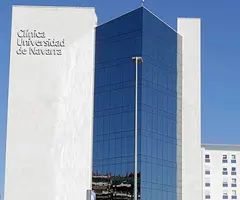 Why choose the Clinic?
Cutting-edge diagnostic technology.
Rapid diagnosis for the early initiation of the most appropriate treatment.
Multidisciplinary teamwork.
Our team of professionals
Maximum diagnostic and therapeutic precision
Radiopharmacy Laboratory
The Clinic is one of the European hospitals that has the largest number of specific radiopharmaceuticals for certain pathologies for clinical use in its own centre and around fifteen in the research and clinical trials phase.
The benefit for our patients of this wide variety of radiopharmaceuticals is that it allows for a more precise diagnosis in order to determine the most appropriate treatment for complex pathologies such as prostate, brain and liver tumours, degenerative diseases such as Parkinson's or Alzheimer's and dementias in general.
We help our patients to overcome their stories
Their testimonies encourage us to continue improving our services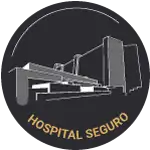 Safer than ever to continue taking care of you
We update safety protocols weekly with the latest scientific evidence and the knowledge of the best international centers with which we collaborate.