Endoscopic submucosal dissection
What is ESD?
Endoscopic submucosal dissection (ESD) is a new advanced endoscopic technique that makes it possible to treat early neoplasms of the digestive tract.
This endoscopic technique allows the removal of lesions of the digestive tract with adequate margins, facilitating a more precise anatomopathological diagnosis, with high cure rates and avoiding in most cases a more invasive surgical treatment. This also allows patients to recover more quickly (24-48 hours) after the procedure.
The Endoscopy Unit of the Clinica in Madrid incorporates this procedure to its therapeutic options to offer the patient the most appropriate treatment for his case.
When is endoscopic submucosal dissection indicated?
Endoscopic submucosal dissection is indicated for lesions detected in the esophagus, stomach, colon and rectum that present superficial neoplastic degeneration and have no very low risk of having spread outside the organ.
Also in the case of flat or depressed colon polyps with the presence of scars from previous procedures, which cannot be removed with the usual techniques.
Most frequent indications for DSE in early neoplasms of:
Esophageal.

Stomach.

Colon.

Rectal.
Do you have any of these diseases?
May improve with endoscopic submucosal dissection (ESD)
How is endoscopic submucosal dissection performed?
This technique is performed in experienced Endoscopic Units, the anesthesiologist sedates the patient and endoscopically, an incision is made outside the lateral margins of the lesion and then it is removed in one piece.
It is essential that the lesion is removed in a single block because, in the event that the lesion detected has progressed to a malignant process, the pathologist can analyze the lesion in detail and ensure that we have removed it completely, with sufficient free margins to ensure complete healing.
To carry out the procedure, a 1-2 millimeter long mini electroscalpel is used, which is introduced through the endoscope itself. After the removal is completed, a superficial ulcer remains, which heals spontaneously in a few weeks.
Where do we do it?
IN MADRID
The Department of Digestive
of the Clínica Universidad de Navarra
The Digestive Department of the Clinica Universidad de Navarra is composed of a multidisciplinary team of specialists who are experts in the diagnosis and treatment of diseases of the digestive tract.
Our objective is that each diagnosis be carefully established and the treatment plan adjusted to each patient.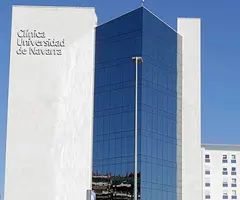 Why at the Clinica?
Medical specialists who are national references.
Specialized nursing team.
Endoscopy Unit and High Risk Digestive Tumor Prevention and Consultation Unit to offer the best care to our patients.
Our team of professionals
Digestive specialists with expertise in endoscopic submucosal dissection