Cardiac imaging
" CT, MRI, PET, SPECT, GATED-SPECT and echocardiography are the tests used by the Clinic for the recognition of everything related to the heart. The images obtained help and make it possible to find a solution".
DR. GORKA BASTARRIKA CODIRECTOR. RADIOLOGY SERVICE
Cardiac imaging is an ideal technique to rule out coronary diseases in patients with low or moderate cardiovascular risk, for the pre- and post-surgical study of adult patients with congenital heart disease and to assess the permeability of aortocoronary grafts (by-pass).
In order to know what is causing the heart muscle failure, certain complementary tests are nowadays essential.
We have the most sophisticated explorations, among which are echocardiography, computerized tomography, heart resonance or cardiac catheterization. The technical possibilities for studying the heart are as powerful as the myocardium itself.
The Clinica Universidad de Navarra has the latest technology available on the market.
When is cardiac imaging indicated?
New techniques have been developed through radiology and isotope studies. Radiological studies have been developed through CT, magnetic resonance imaging (MRI) and echocardiography.
The TAC has improved in resolution and speed, even offering the possibility of building images in three dimensions. This reconstruction of images has been possible thanks to the use of computer tools and the better quality offered by this technique when evaluating the various structural cardiac elements.
The images obtained - complementary to each other - help and allow a solution to be found.
Most frequent indications of this test:
Angina pectoris.

Valve diseases.

Acute myocardial infarction.

Myocardiopathies.

Follow-up of heart transplant.
Do you have any of these diseases?
You may need to have a cardiac imaging test
Types of Cardiac Imaging Tests
Cardiac magnetic resonance imaging (MRI) or cardio-MR is one of the most advanced and developed clinical applications of this non-invasive imaging technique, establishing itself as a reference technique for studying a large number of diseases affecting the cardiovascular system. It responds to clinical problems that are difficult to find answers for in traditional cardiology.
This technique, isolated or in a complementary way to echocardiography, allows establishing, for example, aspects of ischemic cardiopathy, myocardiopathy and valve disease unknown until now, having meant, in many cases, a change in its diagnostic paradigm.
Given its excellent reproducibility, cardio-MR has become the reference standard for studying ventricular volumes and evaluating global and regional contractility of the heart.
It is indicated in: congenital cardiopathies; acquired diseases of the vessels; coronary disease; myocardiopathies, heart transplantation, pericardial disease and cardiac masses; and, valvular diseases.
The 64-slice CT is a state-of-the-art equipment that perfects the image obtained. The main application is in vascular and cardiac studies.
It makes it possible to study the anatomy and function of the heart with high image resolution.
It clearly shows the heart muscle and the coronary arteries.
These studies are synchronized with the patient's electrocardiogram and the images are reconstructed in the phase of the cardiac cycle in which the coronary arteries show less movement.
Having images in a very short time allows taking a picture of the heart in an instant of freezing: between systole (contraction) and diastole (relaxation) is the moment of greatest relaxation of the heart and can be captured with total definition and without movement.
Its advantages: speed, also applied in pediatric explorations; greater capacity for automatic adaptation to the size and anatomical shape of the patient, modulating the amount of radiation emitted according to weight, reducing the dose significantly.
It is an ideal technique to rule out coronary disease in patients with low or moderate cardiovascular risk, for the pre- and post-surgical study of adult patients with congenital cardiopathies and to assess the permeability of aortocoronary grafts (by-pass).
Optical coherence tomography (OCT) has shown high sensitivity and specificity in classifying different types of atherosclerotic plaques.
It is also used to assess the outcome after stent implantation in patients undergoing percutaneous coronary intervention. With this technique the different behaviors of the different stents are studied with greater clarity, being able to evaluate if it is well implanted, which are less or more restenotic, etc.
Computerized Axial Tomography (CT) offers high image quality in a short time. In turn, magnetic resonance imaging is the ideal test for diagnosing diseases of the cardiovascular system.
Echocardiography is a technique whose added value is to offer live images in practically real time, without the need for reconstruction.
The tests dependent on Nuclear Medicine (PET, SPECT, GATED-SPECT) indicate in detail the situation of the myocardial irrigation.
Where do we perform them?
IN NAVARRE AND MADRID
The Radiology Service
of the Clínica Universidad de Navarra
We have the most advanced technology to perform diagnostic radiological tests: PET-CT (the first equipment of these characteristics installed in Spain), 1.5 and 3 tesla magnetic resonances, latest generation digital mammography, etc.
We have an innovative system for archiving and communicating medical images, which facilitates their storage and handling for better diagnostic capacity.
Organized in specialized areas
Neck and chest area

Abdominal area

Musculoskeletal area

Neuroradiology Area

Breast Area

Interventional radiology Area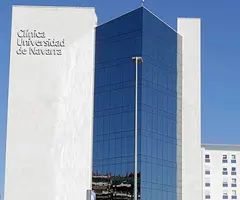 Why at the Clinica?
We are the private center with the largest technological equipment in Spain.
Specialists with extensive experience, trained in centers of national and international reference.
We collaborate in a multidisciplinary way with the rest of the Clinic's departments.
Our team of professionals