How is rubella spread?
Rubella is a feverish, contagious, benign (if contracted after birth), exanthemic disease (skin rash) that can cause chronic infection of the fetus, serious malformations and/or miscarriages in pregnant women, especially in the early months of pregnancy.
It is transmitted between people through sneezing, coughing or contact with contaminated surfaces (tissues, glasses, or hands). The chance that an unvaccinated person will get the disease if they live with someone who has it is 90%.
Today, most rubella infections occur in young, unvaccinated adults rather than children, which can put children who may have it in the future at risk.

Do you need a remote second opinion?
Our professionals will provide you with a medical evaluation without you having to leave your home.
What are the symptoms of rubella?
If contracted after birth: it is usually a mild infection.
It is characterized by:
Incubation period: 2-3 weeks. Generally asymptomatic.

Prodromal period: 1-7 days. Slight catarrhal symptoms, feverish, which may go unnoticed. Ganglion inflammation: retroauricular, suboccipital.

Exanthematical period: 3 days. Macules-Papules (similar to measles but milder) that start in the face and then spread to the rest of the body.

Ganglion swelling follows, which can be painful.

Flaking period: Very mild or none at all.

If contracted in the embryo or fetus (congenital rubella): the virus affects more frequently and more severely the fewer weeks of pregnancy the infected woman has, producing:
Chronic infection of the fetus (evolutionary rubella): with the persistence of the virus in its various tissues until many months after birth, giving rise to various symptoms such as: thrombocytopenia, meinigoencephalitis, myocarditis, pneumonia, diabetes, etc.
Congenital defects or malformations: mainly cardiac and ocular alterations, deafness, alterations of the nervous system... and/or miscarriages.
The most common symptoms are:
Catarrhal symptoms.

Ganglion inflammation.

Macules-papules.

Scaling.
Not every time a pregnant woman gets infected her child will have congenital rubella.
Abnormalities are rare if the infection occurs after the 20th week of pregnancy.
Complications that may occur are very rare: encephalitis, arthritis or arthralgia, bleeding, etc.
Do you have any of these symptoms?
Rubella may be present
What are the causes?
It is produced by a virus of the genus Rubivirus.
It is transmitted in the following ways:
Infants with congenital rubella: by body secretions (urine, nose and throat secretions) for a year or more.

From a sick person (whether they have symptoms or not) to a healthy person: through the air, by saliva droplets (Pflügge drops) from 2-3 days before the appearance of the rash to a few days after.

Pregnant women transmit it to the fetus through the placenta.
How do you prevent rubella?
Avoiding contact with infected people.

Administering gamma globulin (passive immunity): in non-immune pregnancies or people at special risk who have had contact with infected people.

Live attenuated virus anti-rubella vaccine (active immunity): alone or in association with measles and mumps vaccines (triple virus) administered, according to the vaccination calendar, at 15 months and a booster dose at 6 years of age or at 11 years of age if they did not receive a second dose before 6 years of age.

Attenuated anti-viral vaccine in women of childbearing age not previously vaccinated or immunized (should not become pregnant within 3 months after the vaccine).
There is no specific treatment for this disease. The treatment will be symptomatic.
Where do we treat it?
IN NAVARRA AND MADRID
The Department of Pediatrics
of the Clínica Universidad de Navarra
All our specialists work exclusively and, in addition, since we have all the technology in the same center, we offer the performance of tests and diagnosis in less than 72 hours.
We have a team of highly qualified professionals to attend the different specialized units: Oncopediatrics, Neuropediatrics, Endocrinopediatrics, Neonatology, etc.
Organized in specialized units
Neonatology Area.

Pediatric Endocrinology.

Pediatric Cardiology.

Digestive and pediatric nutrition.

General and preventive pediatrics.

Pediatric Pneumology.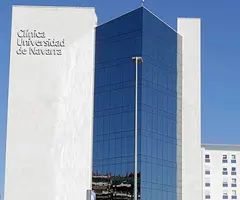 Why at the Clinica?
Comprehensive care of the child.
Professionals who are experts in the different areas for a better diagnosis and treatment.
Equipped with the latest technology for newborn care.
Our team of professionals