Gastroscopy
"Chronic gastritis is a risk factor for stomach cancer. In patients with a family history of gastric cancer or in those whose biopsy results show pre-malignant cell changes, we recommend endoscopic follow-up.
DR. CÉSAR PRIETO FRÍAS SPECIALIST. DIGESTIVE DEPARTMENT
Gastroscopy is an examination that allows direct visualization of the upper part of the digestive tract (esophagus, stomach and duodenum), using a thin flexible tube.
In addition to being a diagnostic method, gastroscopy has an important therapeutic aspect.
Through the channel of the endoscope, we can pass a great variety of instruments, which allows us to act on diverse lesions: dilation of stenotic (narrow) areas, removal of polyps, extraction of foreign bodies, treatment of hemorrhage focuses, etc.
This makes it possible to avoid or reduce the need for transfusions and the use of surgery in a large number of patients.
When is gastroscopy indicated?
Gastroscopy is usually performed in order to evaluate the cause of abdominal discomfort: pain, nausea, difficulty in swallowing, heartburn, etc. It is also the most effective method for assessing the cause of bleeding originating in the upper digestive tract.
By means of this technique, tumors can be detected at an early stage. By extracting small samples of mucosa, which are then studied under the microscope, a distinction can be made between benign and malignant lesions.
Most frequent indications of this test:
Stomach cancer.

Chronic gastritis.

Peptic ulcer.
Do you have any of these diseases?
You may need to have a gastroscopy
How is gastroscopy performed?
The doctor who is going to carry out the exploration will explain to you what it consists of and what you must do to tolerate it adequately.
A mouthpiece will be placed to protect your teeth and, once it is in a comfortable position, the doctor will introduce the endoscope through your mouth. This device does not interfere with your breathing and usually does not cause any pain.
The scan takes approximately 2 to 5 minutes. There is the possibility of performing the exploration with sedation or even with anesthesia, so that even in very nervous people it can be done without causing any discomfort.
The stomach must be completely empty. You will avoid eating solid and liquid foods from the night before.
In case you must take any medication, you will do it as soon as possible and help yourself with small sips of water. It is important not to take antacids and not to smoke before the test.
The patient who is going to have the test done must inform the medical personnel that he is going to have it done, if he is taking anticoagulants (aspirin or other drugs), if he has any important heart or respiratory problem or any infectious disease such as hepatitis, etc.
The complications that can arise are infrequent and appear in less than 1 per 1,000.
They can consist of: distension of the abdomen, pain, hypotension, phlebitis, allergic reactions, infection, bronchial aspiration, hemorrhage, perforation and cardiorespiratory arrest.
Where do we do it?
IN NAVARRE AND MADRID
The Department of Digestive
of the Clínica Universidad de Navarra
The Digestive Department of the Clinica Universidad de Navarra is composed of a multidisciplinary team of specialists who are experts in the diagnosis and treatment of diseases of the digestive tract.
Our objective is that each diagnosis be carefully established and the treatment plan adjusted to each patient.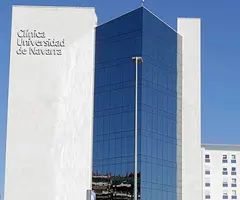 Why at the Clinica?
Medical specialists who are national references.
Specialized nursing team.
Endoscopy Unit and High Risk Digestive Tumor Prevention and Consultation Unit to offer the best care to our patients.
Our team of professionals