Fundus examination
"Patients with high myopia require periodic ophthalmological controls to verify that there are no alterations or risks in the retina, given that in many patients, these lesions are present without giving any symptoms".
DR. CRISTINA ABASCAL AZANZA SPECIALIST. OPHTHALMOLOGY DEPARTMENT
The examination of the fundus is a routine test that allows obtaining information about the most important structures of the back of the eye, as well as making the diagnosis and monitoring of various ophthalmological pathologies.
The anatomical structures that are explored are:
Optic nerve.

Macula.

Vascular arches.

Peripheral retina.
When is the fundus scan performed?
It is a test that is performed routinely and does not involve much discomfort for the patient.
Regular eye examinations can help in the early diagnosis and treatment of associated complications.
Most frequent indications of this test:
Age-related macular degeneration.

Glaucoma.

Myopia.

Diabetic retinopathy.
Do you have any of these diseases?
You may need to have a fundus scan
How is the fundus scan performed?
To visualize the fundus, the ophthalmologist can be helped by different instruments that incorporate eyepieces, through which the ophthalmologist looks, and are equipped with a light source that is projected towards the patient's eye through some lens system.
It is necessary to dilate the pupil to correctly evaluate the retina, the back of the eye.
This implies that the preparation time, in which a few drops are poured into the eye sequentially, is somewhat long before this test can be performed.
It is convenient to go accompanied since after the test is done, the eye is still dilated and vision will be blurred for a few more hours.
Where do we do it?
IN NAVARRE AND MADRID
The Department of Ophthalmology
of the Clínica Universidad de Navarra
Equipped with the latest technology, the Department of Ophthalmology has the necessary equipment, both technical and human, to offer comprehensive and specific assistance to each patient.
We are one of the few centers that have a microsurgery laboratory for the improvement of clinical practice.
Organized in specialized units
Cornea and eye surface

Retina

General Ophthalmology

Refraction defects

Oculoplastic

Pediatric ophthalmology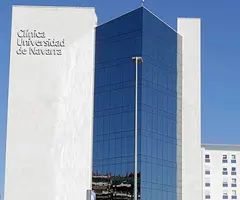 Why at the Clinica?
More than 30 years of experience.
Experts in the diagnosis and treatment of ocular pathologies.
With the security and guarantee of a prestigious hospital.
Our team of professionals