Anorectal manometry
"This test does not require any type of analgesic or sedation, so the risk of complications is lower".
DR. JOSÉ CARLOS SÚBTIL ÍÑIGO SPECIALIST. DIGESTIVE DEPARTMENT
Anorectal manometry is a test to measure the function of the end part of the intestine (rectum and anus).
To perform it, a thin probe with holes is placed through the anus. With it, pressures can be measured at different levels.
When is anorectal manometry indicated?
The results may help identify some causes of anal pain, incontinence and constipation.
It may also be helpful in planning some types of surgery or determining the effectiveness of previous surgery.
Most frequent indications of this test:
Anal pain.

Constipation.

Fecal incontinence.
Do you have any of these diseases?
Anorectal manometry may be required
How is anorectal manometry performed?
Before starting the scan, the doctor who is going to perform it will explain to you what it consists of and what you must do to obtain the results expected from this scan.
All the maneuvers that are requested are very simple and the patient's collaboration is essential for the manometry to be conclusive.
This is a short term test and it is not painful, and it does not require any type of analgesic or sedation.
Depending on the reason why this exploration is indicated, one or several probes (all of them fine) may be used, which are introduced through the anus into the rectum about 10 cm.
One of the types of probes has a balloon at its end: it is introduced deflated and inflated once the probe is placed in the rectum. This maneuver is not painful either.
The probe placed in the rectum is connected to a pressure system and a computer, so that the pressures generated in the rectum and the anus by the various manoeuvres indicated by your doctor are reflected on the computer screen by means of graphics.
It does not require fasting or any other special preparation.
Sometimes an enema is administered the night before.
There are some drugs that modify the pressures at the level of the rectum and the anus, and therefore they can alter the results of this test; if you are taking medication or applying ointments in the anal region, it is convenient that you indicate it to your doctor to suspend it if necessary, before performing the exploration.
Where do we do it?
IN NAVARRE AND MADRID
The Department of Digestive
of the Clínica Universidad de Navarra
The Digestive Department of the Clinica Universidad de Navarra is composed of a multidisciplinary team of specialists who are experts in the diagnosis and treatment of diseases of the digestive tract.
Our objective is that each diagnosis be carefully established and the treatment plan adjusted to each patient.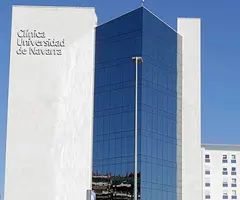 Why at the Clinica?
Medical specialists who are national references.
Specialized nursing team.
Endoscopy Unit and High Risk Digestive Tumor Prevention and Consultation Unit to offer the best care to our patients.
Our team of professionals