Deep brain stimulation
"Stimulation can not only replace and improve injury surgery, but it also allows access to deep structures without injuring them, with greater safety for the patient".
DR. LAIN HERMES GONZÁLEZ SPECIALIST. NEUROSURGERY DEPARTMENT
What is deep brain stimulation?
This technique consists of performing a high frequency stimulation on a small brain volume (surgical target) that inhibits or blocks the pathological activity of the affected structure.
The movement disorders surgery work group of the Clinica Universidad de Navarra has a wide experience. Since 1995 it has been carrying out this type of treatment in diseases such as Parkinson's disease, essential tremor and other tremors, dystonia, etc.
In order to achieve a greater percentage of success, it is important to have a multidisciplinary team.
The team that attends to these patients should be formed by neurologists specialized in basal ganglia, neurosurgeons specialized in functional stereotactic surgery and neurophysiologists specialized in intracerebral registration.
When is brain stimulation indicated?
In recent years, deep brain stimulation has expanded its field to other pathologies related to movement disorders, certain psychiatric problems and patients with refractory pain.
Within the section of the movement, dystonias, choruses, tremors and tics within the syndrome of Tourette are taking part.
Certain types of patients with psychiatric pathologies, like the depression or the obsessive compulsive disorders (TOC), refractory to other treatments, have begun to be treated by means of this type of stimulation.
Most frequent indications for this treatment:
Do you have any of these diseases?
Deep brain stimulation may be indicated
HIFU, treatment of tremor without surgery
The Clinica Universidad de Navarra incorporates the most advanced model of high intensity ultrasound for the treatment of patients with essential tremor and tremor of Parkinson's disease.
Where do we do it?
IN NAVARRA AND MADRID
The Department of Neurosurgery
at the Clínica Universidad de Navarra
The Neurosurgery Department has specialists with a great deal of experience in care and research and the most advanced technology.
We are the only Spanish center that incorporates high field intraoperative magnetic resonance (3T). This allows the maximum precision and control in cranial surgery.
We are the Spanish medical center with the most experience in Parkinson's surgery by means of deep brain stimulation. We have the latest technology with localized ultrasound (HIFU) and extensive experience in treating essential tremor and Parkinson's disease without an incision.
Treatments we perform
Alterations in the circulation of the cerebrospinal fluid

Infusion Pumps

Trigeminal Neuralgia

Pediatric Neurosurgery

Pituitary Tumors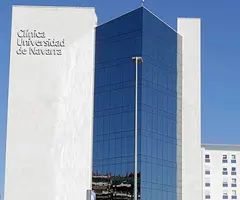 Why in Navarre?
The only Spanish center with a high field intraoperative magnetic resonance (3T).
Precision and minimally invasive surgery.
Experts in the use of HIFU for the treatment of tremor.
Our team of professionals
Neurosurgery specialists with experience in deep brain stimulation