Home >
Dr. Bartolomé Bejarano Herruzo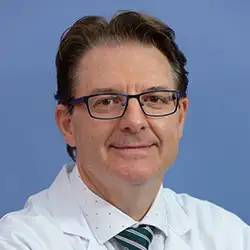 meet

Dr. Bartolomé Bejarano Herruzo

Neurosurgery Specialist.
He has vast experience in the treatment of brain and spinal tumors with minimally invasive approaches with microsurgery, guided by neuronavigation, tractography, fluorescence, neurophysiological monitoring, intraoperative MRI and endoscopy.
training and

Professional Career

Graduated (1989) in Medicine from the University of Córdoba. Neurosurgery Specialist at La Paz Hospital in Madrid (1996). He was awarded his doctorate (2004) from the Autonomous University of Madrid.

He worked in several public hospitals before starting to work in the Neurosurgery Department at the University Clinic of Navarra (1999-2016).

Then he moved to University Hospital "Fundación Jiménez Díaz" in Madrid. (2016-2019).

Permanent validation of ECFMG/USMLE.

Systems Engineering degree by UNED (2013).

He has participated in research projects on Computational Neurosciences, Artificial Intelligence and Neural Networks, Complex Systems (especially the brain), "Machine Learning" and Neuroeconomics. In addition, he has collaborated in several clinical trials on Neuro-oncology, nerve regeneration and neuroprosthesis:
Anatomical and functional connectivity of the transected ulnar nerve after intercostal neurotization in cats. Funding entities: FIS. PI: Alberto Isla Guerrero (Autonomous University of Madrid). 1995-2002.
Study of the molecular alterations of PTEN gene and the expression of the corresponding protein in DNA from astrocytomas extracted through microdissection of immunostained tissue against the PTEN protein. Prognostic value of these alterations. Fundig entities: Departamento de Salud del Gobierno de Navarra. PI: Miguel Ángel Idoate Gastearena (University Clinic of Navarra). 2007 - 2009.
Proteogenomics Medicine in cancer: identification and detection of peptide biomarkers through mass spectrometry. Participating entities: CIMA. Funding entities: Ministerio de Ciencia, Innovación y Universidades. PI: Victoriano Segura Ruiz (Center for Applied Medical Research). 2016-2018.
A Randomised Controlled Study to Evaluate the Efficacy and Safety of Fibrin Sealant, Vapour Heated, Solvent/Detergent Treated (FS VH S/D 500 s apr) Compared to DuraSeal Dural Sealant as an Adjunct to Sutured Dural Repair in Cranial Surgery. Multicenter research trial. Participating entities: University Hospital Fundación Jiménez Díaz. Neurosurgeon: Bartolomé Bejarano. PI: Donald Cheatem (Baxter Healthcare Corporation). Study number 3599-001. 2017-2018.
Effects of ambulation training using biomechanical exoskeleton HUMEXE on patients with spinal cord injury. Protocol Number: HUMEXE-052018. Sponsor: Tecnimusa, S.L. Funding from the European Union's Horizon 2020 Research and Innovation Programme under Grant Agreement No 784560. Coordinating Investigator: Bartolomé Bejarano. 2018-2019.
Auditory Brainstem Implants (ABI) on children and adults with bilateral severe sensorineural hearing loss. Neurosurgeon: Bartolomé Bejarano. Collaborating entities: Cochlear. PI: Manuel Manrique (University Clinic of Navarra). 2007-2019.
He collaborates on Proteogenomics Medicine in cancer with CIMA. He is also interested in Computational Neuroscience, Neural networks, Data mining/Machine learning.
ACTIVITY
As an educator
Associate Professor at the University of Navarra (2003-2016 y now again), Autonomous University of Madrid, UAM (2016-2019).
As a researcher
Author of over 30 articles in national and international medical journals and 3 book chapters, and a great number of presentations at conferences in Neurosurgery.
He is a member of several scientific societies: SENEC, SENFE, NEURORAQUIS, EANS, CNS, WFNS.
He was awarded a schollarship to do a postgraduate year (1997-1998) at the Department of Cognitive and Neural Systems, Boston University (MA, USA) on Computational Neuroscience, Artificial Intelligence and Neural Networks.
you may

be interested

The Clínica is the spanish private hospital with the greatest technological equipment in one single center.

If you live outside of Spain and you wish to receive care at the Clínica, learn about our services for international patients.

Why we are different from other healthcare centers.
Quality, speed, comfort and results.