Oral antidiabetics
"Oral antidiabetics are a group of drugs that reduce blood glucose levels through different mechanisms".
DR. JAVIER ESCALADA DIRECTOR. ENDOCRINOLOGY AND NUTRITION DEPARTMENT
What are oral antidiabetics?
Oral antidiabetics are a group of drugs that reduce blood glucose levels through different mechanisms.
They can be combined with each other and, when this is not effective either, they are combined with night-time insulin.
In the final stages, diabetes mellitus, even type 2, often requires exclusive treatment with insulin due to exhaustion of the pancreatic beta cell.
In addition to new types of drugs, some have appeared with an action and safety profile that makes them more effective, with fewer adverse effects and more comfortable for the patient. Among the recent drugs, the role of the so-called generic thiazolidindiones or glitazones stands out.
In addition to improving glycemic control in monotherapy or in combination with other drugs, they have shown benefits in reducing the alterations associated with type 2 diabetes and the metabolic syndrome (high blood pressure, lipid alterations...).
When are oral antidiabetics indicated?
Before starting to use oral antidiabetics, it is advisable to follow a diet plan and practice physical exercise to reduce glucose levels in the body and lower the concentration of glycosylated hemoglobin (Hb A1c).
If no progress is made with the physical exercise and the specific diet plan, antiabetics are the initial treatment for type 2 diabetes mellitus.
Most frequent indications of this treatment:
Do you have any of these diseases?
It may be necessary to start with oral antidiabetics
Mechanism of action. It consists of inhibiting an enzyme (alpha glycosidase) in the small intestine that usually breaks down disaccharides to facilitate their absorption. As this rupture does not occur, the absorption of the carbohydrates is delayed and, therefore, the elevation of glucose after meals is buffered. They have an antihyperglycemic effect. In monotherapy they do not cause hypoglycemia.
It is advisable to take them with the first bite of each meal.
Side effects. They include flatulence, abdominal pain and diarrhea, which often force the suspension of the medication. Also, cases of hepatotoxicity with jaundice and increased liver enzymes related to acarbose have been described at high doses, not in the case of miglitol.
Contraindications. Its use should be avoided when there are intestinal disorders (inflammatory bowel disease, major hernias, intestinal obstruction). It is advisable not to use them in severe hepatic or renal insufficiency.
Biguanides
The most widely used drug in this group is metformin (Dianben). It inhibits the liver's production of insulin and improves insulin sensitivity. It also helps to improve the blood lipid profile.
Adverse effects. The most common are gastrointestinal, such as abdominal pain, diarrhea and nausea. As it does not stimulate the production of insulin, it does not produce episodes of hypoglycemia.
Contraindications. People with renal, hepatic, respiratory or cardiac insufficiency should not take metformin. It is also contraindicated in alcoholism, pregnancy, breastfeeding. It is important to consult your doctor.
Thiazolidindiones
They increase the uptake and use of glucose in muscle and fat tissue. Decreases insulin resistance at the peripheral level and improves blood lipid concentration.
Adverse effects. Weight gain often occurs, although studies have shown that it redistributes body fat in a healthy way, increasing subcutaneous deposits and decreasing visceral fat. Edema may also occur.
Contraindications. Patients with type 1 diabetes, pregnancy, breastfeeding, heart failure, liver disorders, ischemic heart disease, should not take this medicine. In Spain it is not approved for use in combination with insulin.
Sulfonylureas
They stimulate the secretion of preformed insulin in the pancreas.
Side effects. Its main side effect is the appearance of hypoglycemia (low blood sugar), especially when we delay food or fast. In addition, its onset is usually accompanied by a weight gain of between 2 and 5 kg.
Contraindications. Patients with alteration in liver or kidney, patients with insulin deficit type 1 diabetes or secondary to pancreatic disease, pregnancy, major surgery or severe disease and history of adverse reaction to sulfonamide should avoid this medication.
Methylglinides
They stimulate the secretion of preformed insulin in the pancreas. Their half-life is much shorter than sulfonylureas, which means better control of postprandial glucose (after meals) with less risk of hypoglycemia.
Side effects. The occurrence of hypoglycemia is less than with sulfonylureas.
Contraindications. It should be avoided in patients with alterations of hepatic function, patients with type 1 diabetes or secondary to pancreatic disease, pregnancy or lactation. They can be used in elderly patients and with renal insufficiency.
IV dipeptidylpeptidase inhibitors (gliptine)
They act by inhibiting the enzyme DPP-IV, whose function is to degrade the intestinal GLP-1 peptide that is released in the intestine upon the arrival of food, producing the release of pancreatic insulin. They control hyperglycemia without producing weight gain and with a very low incidence of hypoglycemia.
Contraindications. Should be avoided in patients with type 1 diabetes or secondary to pancreatic disease, pregnancy or lactation and moderate or severe renal failure. Vildagliptin is also contraindicated in case of liver failure or elevated transaminases (>triple normal).
Where do we do it?
IN NAVARRE AND MADRID
The Department of Endocrinology and Nutrition of the
of the Clínica Universidad de Navarra
The Department is organized into care units with specialists totally dedicated to the study, diagnosis and treatment of this type of disease.
We work with established protocols, which ensure that all diagnostic tests to be performed are done in the shortest time possible and that the most appropriate treatment is started as soon as possible in each case.
Organized in care units
Obesity Area.

Diabetes Unit.

Thyroid and Parathyroid Disease Unit.

Osteoporosis Unit

Other diseases: e.g. Cushing's syndrome.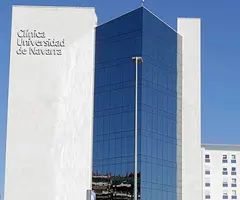 Why at the Clinica?
European Center of Excellence in the diagnosis and treatment of Obesity.
Team of specialized nurses at the Day Hospital of Endocrinology and Nutrition.
We have a Metabolic Research Laboratory of international prestige.
Our team of professionals