Anticoagulation treatment
"Our objective is the early diagnosis, prevention and modern and individualized treatment of venous thromboembolic disease in any of its forms".
DR. RAMÓN LECUMBERRI VILLAMEDIANA CODIRECTOR. HAEMATOLOGY AND HAEMOTHERAPY DEPARTMENT
Anticoagulants are substances used for the treatment of thrombosis because of their ability to make the blood clotting process more difficult.
A thrombus is a clot within the circulatory system. An embolism is said to occur when a fragment of that clot breaks off and suddenly plugs up some vein or artery.
Anticoagulant treatment is the treatment of choice for thrombosis of the lower extremities and pulmonary embolism.
There are several types of anticoagulants that are used in the management of these processes: heparins and pentasaccharides, oral anticoagulants and direct thrombin inhibitors.
The new oral anticoagulants, such as Dabigatran, Rivaroxaban, Edoxaban and Apixaban, have several advantages for the patient: they do not require laboratory monitoring, they are comfortable, since they are administered orally, they have few interactions with other drugs and foods and they lead to fewer bleeding complications, especially cerebral hemorrhage.
When are anticoagulants indicated?
Oral anticoagulants (Sintrom® is the best known and most widely used in our country) are the treatment of choice in the long term for venous and arterial thrombosis of various locations: venous thrombosis of the legs, pulmonary embolism, atrial fibrillation, heart valve disease, valve prostheses, etc.
This treatment requires frequent laboratory controls, the most commonly used test being prothrombin time, which allows a parameter called INR (International Normalized Ratio) to be obtained, which is the correct way of expressing the results.
Each patient needs a certain INR figure, and each laboratory will adjust the dose of Sintrom® to maintain the INR in the appropriate range.
Most frequent indications of this treatment
Do you have any of these diseases?
It may be necessary to start treatment with anticoagulants
How is the treatment with anticoagulants?
Classically, "normal" heparin has been the standard treatment for venous thrombosis.
However, there are a number of limitations to the use of these preparations, such as the need for intravenous administration in a hospital setting and the need for frequent laboratory controls to adjust doses.
In recent years, low-molecular-weight heparins have replaced "normal" heparin, and are currently the initial treatment for venous thrombosis because they are easy to administer (subcutaneously), do not require laboratory controls and can be administered on an outpatient basis.
La mayor complicación del tratamiento anticoagulante es la hemorragia, que está en relación con la dosis del fármaco y la edad del paciente (mayores de 75 años).
Las heparinas de bajo peso molecular presentan una incidencia menor de complicaciones hemorrágicas.
En el tratamiento con anticoagulantes orales, los mayores condicionantes son la intensidad del tratamiento, las características del paciente (antecedentes hemorrágicos previos) y su duración.
Otras complicaciones son las reacciones de hipersensibilidad a la heparina, la osteoporosis y el posible descenso del número de plaquetas relacionadas con este fármaco.
Las contraindicaciones absolutas para administrar un tratamiento anticoagulante serían, por consiguiente, la existencia de una hemorragia activa (digestiva, interna, urinaria) o de una herida quirúrgica reciente o en el ojo. El embarazo (primer trimestre) constituye, asimismo, una contraindicación absoluta para la administración de Sintrom® por el riesgo de malformaciones fetales.
Si bien se ha demostrado que con la edad aumenta la incidencia de hemorragias, este hecho no debería considerarse una contraindicación absoluta del tratamiento anticoagulante.
What clinical trials do we have on anticoagulants?
Where do we do it?
IN NAVARRA Y MADRID
The Hematology and Hemotherapy Service of the
at the Clínica Universidad de Navarra
The Hematology Service of the Clinic, formed by specialists of recognized national and international prestige, has integrated molecular diagnostic techniques and the use of new personalized treatments in its assistance work, allowing a more precise and fast diagnosis of the hematological diseases.
The joint work of the medical staff and the researcher facilitates the development and application of the new treatments and at the same time the precise evaluation of the result of the treatments.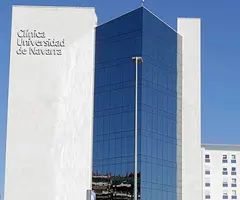 Why at the Clinica?
Experts in the development of Cellular Therapy treatments.
International reference center in lymphomas, multiple myeloma and monoclonal gammopathies.
Experts in the diagnosis and treatment of hemorrhagic and thrombotic problems.
Our team of professionals
Hematology specialists with experience in the treatment with anticoagulants