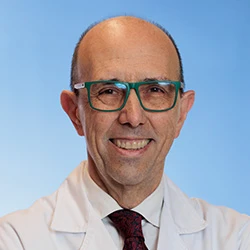 Dr. Carlos García Grande
Specialist in Haematology and Haemotherapy
Works at:
Madrid headquarters
Be part of:
Clínica Universidad de Navarra
Cancer Center Clínica Universidad de Navarra
Professional career
He graduated in Medicine and Surgery from the Faculty of Medicine of the University of Salamanca in 1986.
Specialist in Hematology and Hemotherapy (via MIR) at the Hospital Universitario 12 de Octubre in Madrid in 1987.
Doctor in Medicine and Surgery by the Universidad Autónoma de Madrid in 2002.
Master in Hematopoietic Transplant at the University of Valencia in 2016.
Specialist of the Hematology Area of the 12th October University Hospital of Madrid from 1992 to 2020.
RESEARCH AREAS
He has participated in 5 research projects and more than 80 multicenter clinical trials.
He has directed 2 doctoral theses.
Activity
As an educator
Associate Professor in the Department of Medicine at the Complutense University of Madrid since 2005.
Collaborator in the teaching of Hematology, in the subject of Medical Pathology since 1995.
Tutor of Training Specialists in the Specialty of Hematology and Hemotherapy from 2013 to 2016.
As a researcher
He has published more than 55 articles in international journals and 14 in national magazines.
Co-author of 5 chapters in books related to his specialty.
He has presented more than 100 oral and written communications in national and international congresses.

Scientific organizations
Member of the Spanish Society of Hematology and Hemotherapy.
Member of the Madrid Association of Hematology and Hemotherapy.
Member of the Board of Directors from 2006 to 2008. Treasurer of the Board of Directors from 2008 to 2013.
Member of the GELTAMO Foundation (Spanish Lymphoma Group) since 2013 and member of the Scientific Committee of the group.
Latest scientific publications