Diabetic nephropathy
"Diabetic nephropathy is completely asymptomatic until severe damage occurs".
DR. JAVIER ESCALADA
DIRECTOR. ENDOCRINOLOGY AND NUTRITION DEPARTMENT
What is diabetic nephropathy?
Diabetic nephropathy is the name given to the alterations in the kidney that occur in people with diabetes when their control of blood glucose and other associated factors has not been adequate. It is part of the chronic complications of diabetes mellitus.
Diabetic nephropathy is responsible for about 30% of patients on periodic dialysis and the leading cause of kidney transplantation in Western countries.
When diabetic nephropathy appears it is practically irreversible. It is, therefore, very important to detect it early and avoid its progression when it is diagnosed.

Do you need a remote second opinion?
Our professionals will provide you with a medical evaluation without you having to leave your home.
What are the symptoms of diabetic nephropathy?
Diabetic nephropathy is completely asymptomatic until severe and often irreparable damage is done to kidney function (renal failure).
This requires regular blood and urine tests (at least once a year in people with type 2 diabetes) to detect early inadequate protein loss in urine (albuminuria) and alterations in kidney function.
The most common symptoms are:
Decrease in the amount of urine.

Renal failure.
Are you diagnosed with diabetes?
Remember that it is important to regularly monitor your kidney function
What are the causes of diabetic nephropathy?
Factors favoring renal affectation:
Time of evolution of diabetes. Nephropathy appears in 50% of patients after 20 years from the onset of diabetes.
High blood pressure. The presence of high blood pressure is the most important risk factor in diabetics for the development of nephropathy.
Glycated Hb. There is a relationship between the degree of glycemic control measured by the percentage of glycosylated hemoglobin and microvascular lesions. On the other hand, intensive glycemic control slows down the development of glomerulosclerosis.
Hyperlipoproteinemia.
Obesity.
What is the prognosis of diabetic nephropathy?
The application of pharmacological and other measures that have improved the control of diabetes and high blood pressure in recent years is effective in preventing or slowing the progression of diabetic nephropathy.
In cases of renal insufficiency, advances have been made mainly in renal transplantation, which currently allows many patients many years of independence from dialysis systems with a lower rate of rejection thanks to new immunosuppressive drugs.
How is diabetic nephropathy diagnosed?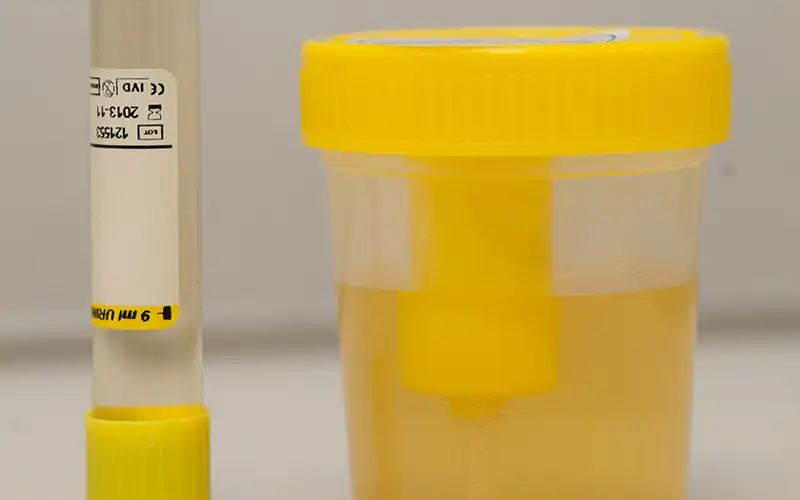 For the initial diagnosis of diabetic nephropathy, a urine test is necessary to determine the amount of albumin eliminated in 24 hours and analysis of kidney function parameters in the blood. The presence of microalbuminuria is a sign of incipient nephropathy and is used as screening for early detection of kidney involvement.
It can be said that diabetic nephropathy is practically irreversible. It is, therefore, very important to detect it early and avoid its progression when it is diagnosed.
The strict control of glycaemia and pharmacological treatment of arterial hypertension have managed to slow down or delay the evolution to more advanced stages of the disease.
How is diabetic nephropathy treated?
El tratamiento prEarly treatment of diabetic nephropathy is the best way to slow the progression
Certain types of antihypertensive drugs called angiotensin converting enzyme inhibitors (ACEIs) are especially effective.
It is also very important to control lipid levels, maintain a healthy weight and practice regular physical activity.
In cases of established diabetic nephropathy it is advisable to reduce the amount of protein in the diet by following a specific eating plan.
Dialysis may be necessary once end-stage renal disease develops. At this stage, a kidney transplant should be considered.
Where do we treat it?
IN NAVARRA AND MADRID
The Department of Endocrinology and Nutrition of the
of the Clínica Universidad de Navarra
The Department is organized into care units with specialists totally dedicated to the study, diagnosis and treatment of this type of disease.
We work with established protocols, which ensure that all diagnostic tests to be performed are done in the shortest time possible and that the most appropriate treatment is started as soon as possible in each case.
Organized in care units
Obesity Area.

Diabetes Unit.

Thyroid and Parathyroid Disease Unit.

Osteoporosis Unit

Other diseases: e.g. Cushing's syndrome.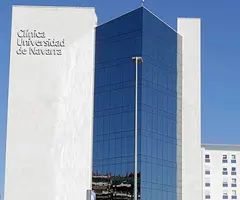 Why at the Clinica?
European Center of Excellence in the diagnosis and treatment of Obesity.
Team of specialized nurses at the Day Hospital of Endocrinology and Nutrition.
We have a Metabolic Research Laboratory of international prestige.
Our team of professionals
Endocrinology specialists with experience in the treatment of diabetic nephropathy