Electrocardiographic holter
"It is a very useful complementary exploration in the study of all types of cardiac arrhythmias and in some cases of coronary diseases".
DR. AGNES DÍAZ DORRONSORO SPECIALIST. CARDIOLOGY DEPARTMENT

The holter, also called ambulatory electrocardiographic monitoring, consists of the continuous recording of the electrocardiogram over a long period of time, usually 24 or 48 hours, by means of a small portable device from which the information recorded during that period of time is subsequently extracted and analyzed.
We have an Arrhythmia Unit specialized in the diagnosis and treatment of arrhythmias. We have a system in charge of the remote control of defibrillators and pacemakers that sends information from the patient's home.
When is electrocardiographic holter indicated?
The holter is a very useful complementary exploration in the study of all types of cardiac arrhythmias and in some cases of coronary diseases.
It is usually used in the study of patients with these pathologies, which generally manifest themselves by symptoms such as palpitations, loss of consciousness or dizziness, tachycardia and precordial pain.
Most frequent indications of this test:
Cardiac arrhythmias.

Precordial pain.

Palpitations.
Do you have any of these diseases?
It may be necessary to perform an electrocardiographic holter
How is a cardiac holter performed?
Self-healing electrodes are placed on the patient's clean skin and connected to the portable recording device. The patient must lead a completely normal life during the period that he or she is wearing the holter and note any type of incidence or symptom that he or she notices
After 24 hours, you must go to the center to remove the recording device or remove it yourself and send it by mail, following the instructions you received at the time of the implant. The doctor will then extract the information that has been recorded on the device.
Where do we do it?
IN NAVARRE AND MADRID
The Department of Cardiology
of the Clínica Universidad de Navarra
The Department of Cardiology of the Clinica Universidad de Navarra is a center of reference in different diagnostic techniques and coronary treatments.
We have been the first center in Europe to place a pacemaker by means of a catheterization without the need to open the chest, for cases of severe heart failure.
The Cardiology Department of the Clinic collaborates with the Radiology and Cardiac Surgery Departments to achieve a quick and precise diagnosis of the patient.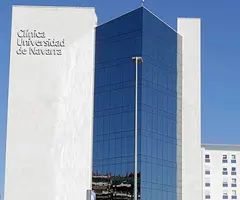 Why at the Clinica?
Specialized Arrhythmia Unit of national reference.
Unit of Hemodynamics and Interventionist Cardiology equipped with the best technology.
Cardiac Imaging Unit to achieve the highest diagnostic accuracy.
Our team of professionals