Orthopedic Surgery and Traumatology
"Boasting over 50 years of experience, we apply the most innovative techniques for our patients".
DR. ANDRÉS VALENTÍ AZCÁRATE SPECIALIST. ORTHOPEDIC SURGERY AND TRAUMATOLOGY DEPARTMENT
At the forefront of the latest treatments, the Department of Orthopaedic Surgery and Traumatology of the Clínica Universidad de Navarra provides patients with a complete recovery that includes diagnosis, treatment and rehabilitation in the same hospital.
The medical team is sub-specialised in hand, wrist, elbow, shoulder, spine, hip, knee, ankle and foot pathologies, as well as joint replacements, children's orthopaedics and sports medicine.
The Musculoskeletal Tumours Area of the Clinic, which is one of the most experienced in Europe in this type of tumours, offers one of the highest rates of preservation of the patient's extremity in the world.
Our specialists in Traumatology form part of the Sports Medicine Area and have a wealth of experience in the diagnosis and care of patients who have suffered a sports injury as well as in the monitoring and preparation of people who practice sport at a professional level.
Specialised units for better care
IN NAVARRE AND MADRID
HIP AND KNEE
Hip or knee fractures

Anterior cruciate ligament injuries

Meniscus injuries
SPINE
UPPER EXTREMITY
Radiocarpal osteoarthritis

Shoulder dislocation and instability

Upper limb fractures

Neuropathies due to trapping

Rotator cuff breakage
PAEDIATRIC ORTHOPAEDICS
ANKLE AND FOOT
MUSCULOSKELETAL TUMOURS
PERSONALISED TREATMENT
Comprehensive assistance
The specialists use a multidisciplinary approach of working with other departments, in order to address all the patient's therapeutic processes in a comprehensive way.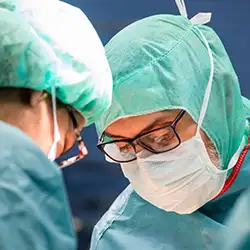 Innovative techniques
We perform pioneering surgical techniques in order to offer the best results to our patients.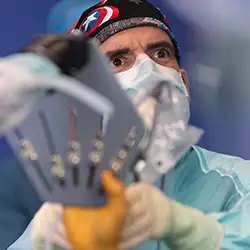 Minimally invasive surgery
We perform the procedures by means of minimally invasive surgery to ensure the greatest safety and recovery of the patient.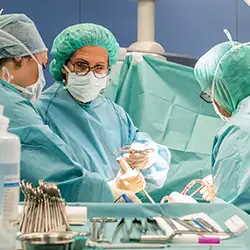 Specialised nursing
A team of nurses highly specialised in the surgical area and in post-operative care, for the rapid recovery of our patients.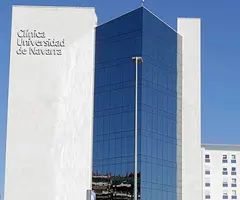 Why choose the Clinic?
Cutting-edge therapeutic technology.
Experts working in a multidisciplinary manner.
Safe and minimally invasive surgeries to ensure the rapid recovery of our patients.
Our team of professionals
We help our patients overcome their stories
Your testimonials encourage us to continue improving our services.