Home >
Dr. Mikel San Julián Aranguren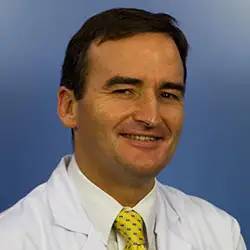 meet

Dr. Mikel San Julián Aranguren

Orthopaedic and Traumatology Surgery Specialist
Area of Expertise: musculoskeletal tumours
training and

Professional Career

Graduated (1988) and was awarded his doctorate (1994) in Medicine from the University of Navarra. He specialised in Orthopaedic and Traumatology Surgery at the Clínica Universidad de Navarra (1994). He did residencies in Switzerland, England and the USA.

He now works in the Orthopaedic and Traumatology Surgery Department at the Clínica Universidad de Navarra.

He has participated in various research projects, including the study of metastases in childhood osteosarcoma.

Conozca qué es el osteosarcoma y cómo lo tratamos en la Clínica
ACTIVITY
As an educator
Professor at the University of Navarra Faculty of Medicine.
He has taught 18 international and 34 national courses.
As a researcher
He has edited 4 books and collaborated by drafting book chapters for another 63.
He has had more than 90 articles published in specialised national and international scientific magazines.
He has made 240 presentations at national and international scientific conferences.
you may

BE INTERESTED

The Clínica is the spanish private hospital with the greatest technological equipment in one single center.

If you live outside of Spain and you wish to receive care at the Clínica, learn about our services for international patients.

Why we are different from other healthcare centers.
Quality, speed, comfort and results.