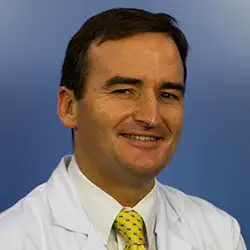 Dr. Mikel San Julián Aranguren
Orthopaedic and Traumatology Surgery Specialist
Area of Expertise: musculoskeletal tumours
Works at:
Navarre headquarters
Be part of:
Clínica Universidad de Navarra
Cancer Center Clínica Universidad de Navarra
Professional career
Graduate (1988) and Doctor (1994) in Medicine from the University of Navarra. Specialist in Orthopedic Surgery and Traumatology by the Clínica Universidad de Navarra (1994).
He has spent time at the Karolinska Institute (Sweden, 1997), Memorial Sloan-Ketering Cancer Centre, New York (United States, 2000) and Leiden University Medical Centre (Holland, 2018-19).
Specialist in the Department of Orthopedic Surgery and Traumatology of the Clínica Universidad de Navarra.
RESEARCH AREAS
He participates in several research projects, including those aimed at studying metastasis in childhood osteosarcoma, inhibition of fibrosis induced by radiotherapy, immunotherapy in childhood solid tumors, etc., financed by entities such as the Health Research Fund, National R+D+I Institute, Spanish Association for the Fight Against Cancer, etc.
AREAS OF INTEREST
Locomotor system tumours.
Childhood orthopaedics.
Hip pathology.
Bone banks.
Activity
As an educator
Professor at the University of Navarra Faculty of Medicine.
He has taught 27 international and 34 national courses.
As a researcher
He has edited 5 books (4 in English, one of them translated into Chinese, and one in Spanish) and has collaborated in the writing of chapters in 71 others.
He has published more than 83 articles in international scientific journals in the speciality, many of them in the first quartile, and 37 in national journals. Many of them can be consulted in Scopus, Research Gate or PubMed.
In addition, he has presented more than 300 papers at national and international scientific conferences, 142 of them as invited speaker.

Scientific organizations
Member of EMSOS (European Musculoskeletal Oncology Society) since 1994. From 2002 to 2012 he was a member of the Board of this Society.
Member of the Board of EAMST (European Association of Musculoskeletal Transplantation).
Founding member of the Spanish Association of Tissue Banks.
Member of the Basque-Navarre Society of Orthopedic Surgery and Traumatology.
Member of the Spanish Society of Orthopedic Surgery and Traumatology (SECOT).
Member of the Group for the Study of Locomotor System Tumors (GRETAL) of the Spanish Society of Orthopedic Surgery and Traumatology.
Director of the Bone Bank of the Clinica Universidad de Navarra.
Latest scientific publications