Hepatology
"We do research in order to design new treatment strategies that will improve the survival and quality of life of our patients".
DR. BRUNO SANGRO DIRECTOR. HEPATOLOGY UNIT
In the Hepatology Unit we boast over 30 years of experience in the diagnosis and treatment of liver diseases. We have all the possible diagnostic equipment, ranging from the latest imaging methods to the most advanced molecular and genetic techniques.
We are pioneers in the application of novel treatment techniques, such as gene therapy, immunotherapy or radioembolisation with Ytrium-90 microspheres.
In addition, we are at the forefront of minimally invasive liver surgery and living-donor liver transplantation.
Our nursing team is highly specialised in this field because of the varied and intense symptoms presented by liver patients.
We are part of the Liver and Pancreas Tumours Area, a multidisciplinary area that is exclusively dedicated to the comprehensive treatment of tumours of the liver, pancreas and bile duct.

¿Necesita que le ayudemos?
Solicite una cita para que le valoren nuestros especialistas
Comprehensive care for our patients
IN NAVARRA AND MADRID

DISEASES

DIAGNOSIS PROCEDURES TREATMENTS
Hepatic Arterial Embolization (Chemoembolization)

Tumour Ablation (Liver Radiofrequency)

Immunotherapy

Liver resection

Intrahepatic portosystemic shunts (TIPS)

Biliary and bilio-digestive diversions

Clinical trials in the most common diseases

Liver transplantation
At the Clinic we are at the forefront of performing living-donor liver transplants, using laparoscopic surgery to minimise the impact on the donor.

Radioembolization with microspheres
This technique allows the treatment of inoperable liver tumours by administering radiation directly to the tumour, respecting the healthy liver.
We are a benchmark centre at European level in the administration of this treatment with over 600 procedures performed.
Immunotherapy
We have different immunotherapy treatment options at our disposal, ranging from the use of reinforced own cells in the laboratory to the infusion of immunological checkpoints that boost the anti-tumour response.
PERSONALISED TREATMENT
Comprehensive patient care
Our multidisciplinary team carries out a detailed diagnostic study to offer the patient a personalised treatment plan with the most advanced procedures.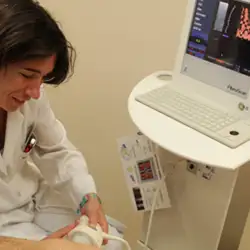 Speed
Rapid diagnosis and start of treatment owing to a close collaboration between radiologists, pathologists and clinicians.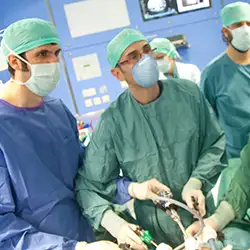 Results
The positive outcomes have converted our Hepatology Unit into a world benchmark in various treatments such as liver transplants, interventional radiology techniques, gene therapy and immunotherapy.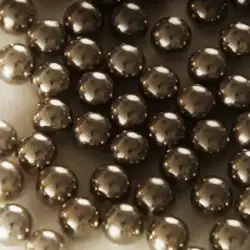 Technology
We offer the most advanced procedures in both diagnosis and treatment.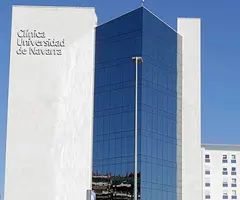 Why choose the Clinic?
International reference professionals.
Cutting-edge technology.
Personalised attention provided by a multidisciplinary team.
Diagnostic speed and rapid initiation of treatment.
Our team of professionals
Extensive international experience in basic and translational hepatology research
Research
The Hepatology team has a great deal of experience in clinical and translational research, which has led it to introduce and improve different treatments. Moreover, it collaborates with the Cima Universidad de Navarra, specifically in the Hepatology, Immunology and Gene Therapy programmes.
Participation in these trials provides patients with new possibilities by allowing access to the latest therapeutic advances
We help our patients to overcome their stories
Their testimonies encourage us to continue improving our services