The Hepatology Unit at the Clínica Universidad de Navarra has more than 20 years' experience in diagnosis and treatment of hepatic diseases.
The Clínica pioneered in the introduction of the use of gene therapy in the treatment of liver tumours and hereditary metabolic diseases, and we have vast experience in the diagnosis and treatment of viral hepatitis and hepatic cancer using radioembolisation systems with Yttrium-90 microspheres.
The Clínica is also a reference in Spain for carrying out liver transplants from a living donor.
Furthermore, we have been developing research into the molecules which cause primary biliary cirrhosis and liver cancer.
The Hepatology Unit works alongside the Internal Medicine Department in the same centre and the Genetic Therapy and Hepatology Department at CIMA (Center of Applied Medical Research).
We have a specialised nursing team, as patients suffering from hepatic diseases are especially in need of nursing care as they have high levels of varied symptomology, which reduces their quality of life.
Radioembolisation is a novel treatment for inoperable liver tumors. [Video only available in Spanish]
We do research to create new molecular treatment and gene therapy strategies to improve the survival rates of our patients".
our

PROFESSIONALS
Hepatology
selector carrusel
RESEARCH
Estudio del H3B-6527 en sujetos con carcinoma hepatocelular avanzado
El propósito principal de este estudio consiste en averiguar la dosis máxima tolerable (la dosis más alta sin efectos secundarios importantes) del fármaco del estudio. Se trata del primer estudio en humanos, lo que significa que usted será una de las primeras en recibir el fármaco. También estamos evaluando la seguridad y tolerabilidad (los síntomas y problemas médicos que podría experimentar) del H3B-6527 administrado todos los días en cápsulas que se ingieren por vía oral. Otro de los propósitos del estudio es evaluar si el H3B-6527 detiene el crecimiento del tumor o reduce su tamaño y durante cuánto tiempo perdura el efecto en el tumor. El estudio examinará también los efectos del fármaco en su organismo, de la siguiente manera: - los efectos secundarios, mediante exploraciones físicas regulares, pruebas analíticas y los síntomas que usted pueda experimentar y referir - los cambios en el tamaño del tumor, mediante pruebas radiológicas; - la manera en que el fármaco afecta a la capacidad del sistema inmunitario de combatir el tumor, analizando el tumor y mediante análisis de sangre; - lo que ocurre con el fármaco en el organismo, utilizando análisis de sangre y orina para evaluar la manera en que el organismo trata y elimina el fármaco; y - también podrán estudiarse muestras de sangre, orina y tejido para predecir la manera en que responderá al fármaco una persona. Además, el estudio recogerá información sobre su esperanza de vida y los efectos secundarios que pueda experimentar durante el estudio.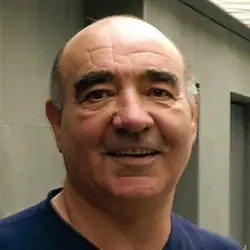 I would tell anyone who has the same condition I have to trust in themselves and the physicians, because it is worth it. Truthfully, fight, because by fighting it you will overcome it."
José Luis G.
Patient with hepatocarcinoma treated with radioembolisation with Yttrium microspheres
you may

be interested

Learn why the Clínica Universidad de Navarra is different from other hospitals.

Want to participate in our clinical trials? Learn which ones are active.

Know what we do for our international patients