Laparoscopic Central Pancreatectomy
"In conventional surgery, the chance of the patient suffering from diabetes because most of the pancreas was removed was 30%. With this technique, it is reduced to 2%".
DR. PABLO MARTÍ CRUCHAGA SPECIALIST. GENERAL AND DIGESTIVE SURGERY DEPARTMENT
Laparoscopic central pancreatectomy is a minimally invasive technique used for very localized benign pancreatic tumors. It is a pioneer in Spain since it allows the removal of benign tumors of the pancreas while preserving maximum pancreatic function with excellent results.
The main objective of this procedure is to obtain the greatest surgical precision, so that we can preserve the maximum amount of pancreas.
The importance of this surgical technique lies in the fact that it manages to remove the minimum possible portion of pancreas and, as a consequence, avoids the risk of the patient developing a glucose intolerance or diabetes, as well as digestive problems derived from the lack of pancreatic enzymes.
When is pancreatectomy indicated?
The main indication is directed to neuroendocrine or cystic tumors of the pancreas and of benign character or with low potential of malignancy.
These lesions are most frequently diagnosed in young women, with an age of around 30 years.
Most frequent indications for this treatment:
Do you have any of these diseases?
You may need to have a laparoscopic central pancreatectomy
How is pancreatectomy performed?
This technique, pioneered in Spain, allows the removal of tumors located in the neck of the pancreas while preserving pancreatic function.
The great novelty is also that it is performed by laparoscopy, a technique of less surgical aggression that allows to improve the post-operative period for the patient.
The number of days of hospitalization decreases from an average of 10 days for the conventional procedure to 4 days for the laparoscopic procedure.
Such low rates of complications translate, in turn, into a very short hospital stay.
Pioneering surgical technique in Spain that allows the removal of benign pancreatic tumors (video only in spanish)
Where do we do it?
IN NAVARRA AND MADRID
The Department of General Surgery
of the Clínica Universidad de Navarra
The Department of General and Digestive Surgery is made up of specialists dedicated to the surgical treatment of endocrine, breast, gastrointestinal, hepatobiliary, pancreatic, colorectal and abdominal wall diseases, with special dedication to oncological surgery.
The application of laparoscopic surgery in the interventions reduces the hospital stay, the post-operative discomfort and shortens the patient's recovery.
We have a great experience in laparoscopic colorectal surgery, of the adrenal gland, liver and pancreas, as well as in obesity surgery.
Treatments we perform
Colorectal surgery.

Breast surgery.

Surgery of the hemorrhoids.

Pelvic floor surgery.

Endocrine and obesity surgery.

Esophageal and gastrointestinal surgery.

Hepatobiliary and pancreatic surgery.

Abdominal wall surgery.

Liver transplant.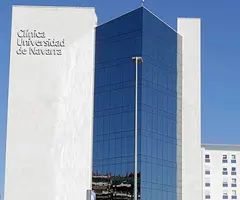 Why at the Clinica?
Center of Excellence in Obesity Surgery by the International Federation for Bariatric Surgery.
90% survival rate in liver transplants.
We are the private hospital with the largest technological equipment.
Our team of professionals
Surgical Specialists with experience in laparoscopic central pancreatectomy