Food desensitization
"Patients with milk or egg allergies take increasing amounts of the food under medical supervision until they tolerate it, with the great benefit to their quality of life".
DR. MARÍA JOSÉ GOIKOETXEA LAPRESA SPECIALIST. ALLERGY AND IMMUNOLOGY DEPARTMENT
What is food desensitization?
Food desensitization or oral food immunotherapy (OTI) is a treatment that is performed in patients who have food allergies and which attempts to modify the response of the body's immune system to those foods to which the patient is allergic.
Desensitization with food consists of the administration of increasing doses of the food to which the person is allergic until a stipulated amount is tolerated. Thanks to this oral immunotherapy treatment, the patient will be able to consume a glass of milk (200 ml) a day or an egg every two days, significantly improving his/her quality of life. The intake of this tolerated amount must be maintained regularly over time in order not to lose the tolerance acquired by the body.
It should not be forgotten that milk and eggs are not only two basic foods, but as ingredients or as traces, they are present in a great amount of cooked products, so the quality of life of allergic patients is clearly affected.
Each patient is assessed individually and throughout the process is supervised by our team of allergists and nurses specialized in the control of this treatment.

Second Opinion,
the peace of mind of knowing
Our team of allergists will review the food allergy reports and tests you submit to assess the possibility of performing food desensitization.
With the maximum comfort,
without moving from home.
In which food allergies can desensitization be performed?
Do you have allergies to any of these foods?
Our specialists will evaluate your case in a personalized way to indicate
if possible, oral immunotherapy treatment to solve your allergy
How is allergic desensitization of a food performed?
If throughout the treatment symptoms or adverse reactions appear, they are controlled with drugs and at all times you will be supervised by our team of professionals.
First shot, at the hospital.
The reaction is studied.
Very low doses:

If you can tolerate it, take the same dose every day, at home.

A week,
take a higher dose,
in the hospital

For one week, it keeps the shot at home.

The same pattern is followed,
by increasing the dose every
week for a few months

Si lo tolera, toma la misma dosis cada día, en casa.

The objective is that
the patient tolerates a
food ration:

Keep taking the
food to maintain
the acquired tolerance

By being able to eat food with
small quantities of egg or milk
improves your quality of life

Overcome milk and egg allergy in one week
When sensitivity to the product is low and if the child's immune system allows it, the 'target dose' can be achieved in five days.
This "express" desensitization process is indicated for patients with a not very high sensitization to these foods and an age between 4 and 10 years old.
Where do we do it?
IN NAVARRA AND MADRID
Department of Allergology
of the Clínica Universidad de Navarra
The Department of Allergy and Immunology of the Clinic is part of the Global Allergy and Asthma European Network, composed of the 25 best departments of Allergy in Europe, chosen for their scientific excellence, multidisciplinary work, teaching and international activities.
We have the most advanced diagnostic techniques, we are at the forefront of research and we collaborate with the best experts. We have more than 50 years of experience in the field.
What diseases do we treat?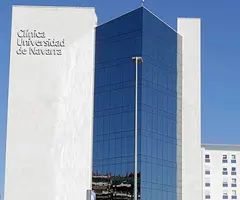 Why at the Clinica?
More than 50 years of experience.
Pioneers in the technique of molecular diagnosis by microarray.
Nursing specialized in allergic diseases and their care.
Our team of professionals
Specialists in Allergology with experience in treating food allergy