Allergic asthma in children
"In 75-90% of children with bronchial asthma it is possible to identify the etiological agents (responsible) of the disease".
DR. GABRIEL GASTAMINZA LASARTE
DIRECTOR. ALLERGY AND IMMUNOLOGY DEPARTMENT
Asthma is an inflammatory disease of the airways, clinically characterized by episodes of dyspnea (shortness of breath), wheezing (whistling or whistling in the chest), or coughing, especially in the morning or afternoon that disappears during remissions.
There is an increase in bronchial reactivity (hyperreactivity) of the airways against specific (allergens) or non-specific stimuli (exercise, methacholine, etc.) and which is manifested by an obstruction to airflow.
Asthma in children is responsible for a significant degree of school absenteeism (5-7 lost school days per child per year), being also the most frequent cause of admission to children's hospitals.

Do you need a remote second opinion?
Our professionals will provide you with a medical evaluation without you having to leave your home.
What are the symptoms of allergic asthma?
Breathing difficulty (dyspnea) of predominantly expiratory (when the air is taken out), which is accompanied by wheezing noises (whistles), chest tightness and persistent dry cough that is usually predominant at night or in the evening, are very suggestive symptoms of asthma, however by themselves they are not diagnostic.
It is characteristic of asthma the remission of symptoms spontaneously or after treatment with bronchodilator. It also supports the diagnosis of asthma the fact of seasonal variability and having a personal or family history of atopy (allergic disease).
The most common symptoms are:
Breathing difficulty.

Wheezing chest sounds.

Chest tightness.

Persistent dry cough.
Do you have any of these symptoms?
Your child may have asthma
How is allergic asthma diagnosed in children?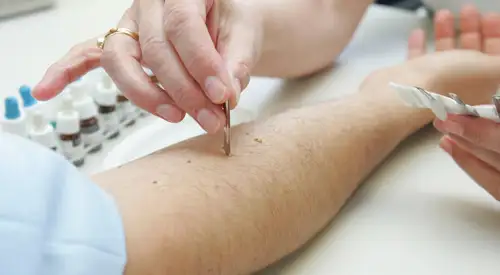 Basal and bronchodilator spirometry must be performed on any child suspected of having bronchial asthma in order to demonstrate that the airway obstruction is reversible (characteristic of asthma).
When the clinical diagnosis of asthma is not clear, a non-specific provocation test is performed (with exercise, methacholine, etc.), in order to trigger the symptoms and be able to objectify them.
Other laboratory tests, such as the rate of serum IgE (characteristic of the atopic patient), chest and breast radiography and other determinations, help us to rule out other pathologies.
Finally, an etiological diagnosis, aimed at finding the cause that triggers the symptoms. Identifying the cause is the most important step in order to control the disease.
How is allergic asthma treated in children?
The treatment of the asthmatic child is based on three pillars: prevention, pharmacological treatment and education
Prevention can be done by avoiding or preventing sensitization in children of atopic risk, avoiding re-exposure to the allergen, if possible (pets, food, etc.) or reducing exposure with environmental control measures.
In pharmacological treatment there are three groups of drugs: those that prevent the release of substances responsible for the allergic reaction; those that decrease inflammation of the mucosa (anti-inflammatory), such as corticosteroids; and drugs that decrease bronchial obstruction, such as bronchodilators. Most of these drugs are administered by the inhaled route, which is more effective and has fewer side effects.
Treatment with immunotherapy (vaccines) consists of administering progressively increasing doses of the allergen to which the patient is sensitized in order to create an immunological tolerance to it.
Education of the patient and the parents of the asthmatic child is basic in clinical preventive medicine. It is essential that they know their disease, signs and symptoms, use of drugs, triggers, etc.
Where do we treat it?
IN NAVARRE AND MADRID
Department of Allergology
of the Clínica Universidad de Navarra
The Department of Allergy and Immunology of the Clinic is part of the Global Allergy and Asthma European Network, composed of the 25 best departments of Allergy in Europe, chosen for their scientific excellence, multidisciplinary work, teaching and international activities.
We have the most advanced diagnostic techniques, we are at the forefront of research and we collaborate with the best experts. We have more than 50 years of experience in the field.
What diseases do we treat?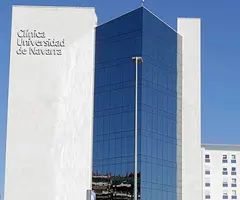 Why at the Clinica?
More than 50 years of experience.
Pioneers in the technique of molecular diagnosis by microarray.
Nursing specialized in allergic diseases and their care.
Our team of professionals