Home >
Dra. Marta Ferrer Puga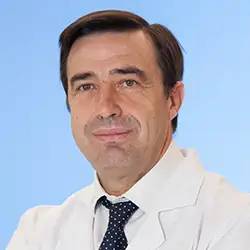 meet

Dr. Miguel Fresnillo Cuesta

Especialista en Otorrinolaringología.
Dedicación preferencial: Cirugía de cabeza y cuello. Cirugía de base de cráneo
training and

Professional Career

Licenciado en Medicina y Cirugía por la Universidad Complutense de Madrid (1983),

Doctor en Medicina y Cirugía por la Universidad de Navarra (1988).

Especialista en Otorrinolaringología (via MIR) en hospital Ramón y Cajal de Madrid.

Fellow en Instituto ORL Antolí–Candela 1992-1993.

Actividad asistencial en Instituto ORL Antolí-Candela. Desde 1993-2017

Director del departamento de Otorrinolaringología en HM Montepríncipe desde 1999-2017
ACTIVITY
As an educator
Profesor/Director de Otorrinolaringología en la Universidad San Pablo-CEU desde el año 2009-2017.
Profesor de Ética de la universidad San Pablo CEU.
As a researcher
Mas de 10 artículos en revistas científicas nacionales e internacionales.
Mas de 40 comunicaciones en congresos nacionales e internacionales.
Director de varios trabajos de investigación de fin de carrera.
Premio al mejor profesor de la Facultad de Medicina de la Universidad San Pablo- CEU (escogido por los alumnos) curso 2013-2014
you may

BE INTERESTED

The Clínica is the spanish private hospital with the greatest technological equipment in one single center.

If you live outside of Spain and you wish to receive care at the Clínica, learn about our services for international patients.

Why we are different from other healthcare centers.
Quality, speed, comfort and results.