Fluorescent microscope
"To perform surgery on brain tumors we have a fluorescent microscope that achieves the total removal of the tumor in 83% of cases".
DR. BARTOLOMÉ BEJARANO DIRECTOR. NEUROSURGERY DEPARTMENT
What is the fluorescent microscope used for?
The fluorescent microscope is a technology that allows the maximum removal of the brain tumor while respecting the most important areas of the brain.
The total removal of the tumor is very important for the survival time and the quality of life of those affected by malignant brain tumors.
Malignant gliomas are tumors with a very poor prognosis and very low survival rates. Starting with a complete removal is the best way for the patient to tolerate radiation and chemotherapy well and have better options.
For correct performance, it must be combined with surgical navigation and neurophysiological monitoring. For this reason, the European Medicines Agency has established as a prerequisite for its use that neurosurgeons take a specific course.
What is the fluorescent microscope used for?
In general, if the entire tumor part is removed, grade 1 and some grade 2 tumors can be cured by surgery alone.
For low grade tumors that cannot be completely operated on and for grade 3 and 4 tumors, surgery should be followed by radiation and chemotherapy treatments.
Most frequent indications:
Do you have any of these diseases?
You may benefit from fluorescent microscope surgery
How is the fluorescent microscope performed?
The fluorescence module incorporated in the microscope is able, with just the flick of a switch, to alternate between normal and fluorescent vision of the brain region being operated on in 1-2s.
This allows a real-time vision in two contrasting colors, blue for the brain mass and red for the tumor cells that are found growing.
For all these aspects, the fluorescent light technique is considered the most promising for this application.
The data suggest that it is more accurate in detecting tumor infiltration than intraoperative MRI, which was until now considered the best way to maximize tumor resection, fluorescence can see cells mixed with the brain surrounding the tumor.
Where do we do it?
IN NAVARRE
The Department of Neurosurgery
at the Clínica Universidad de Navarra
The Neurosurgery Department has specialists with a great deal of experience in care and research and the most advanced technology.
We are the only Spanish center that incorporates high field intraoperative magnetic resonance (3T). This allows the maximum precision and control in cranial surgery.
We are the Spanish medical center with the most experience in Parkinson's surgery by means of deep brain stimulation. We have the latest technology with localized ultrasound (HIFU) and extensive experience in treating essential tremor and Parkinson's disease without an incision.
Treatments we perform
Alterations in the circulation of the cerebrospinal fluid

Infusion Pumps

Trigeminal Neuralgia

Pediatric Neurosurgery

Pituitary Tumors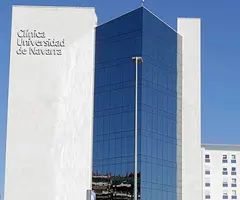 Why in Navarre?
The only Spanish center with a high field intraoperative magnetic resonance (3T).
Precision and minimally invasive surgery.
Experts in the use of HIFU for the treatment of tremor.
Our team of professionals
Neurosurgical specialists with experience in the treatment with fluorescent microscopy