Appendectomy
"By performing this treatment through laparoscopy, the recovery is excellent and it is an intervention with minimal risks".
DR. JORGE BAIXAULI SPECIALIST. GENERAL AND DIGESTIVE SURGERY DEPARTMENT
Appendectomy is the surgical technique used to remove the appendix, this finger-shaped tube is a small pouch between the small and large intestines.
It requires general anesthesia and can be performed with two surgical procedures.
The first is done through an incision on the right side of the abdomen and subsequent removal of the appendix. In the second, the operation is performed laparoscopically, a less invasive technique that requires only three or four small incisions in the abdomen to remove the appendix.
Not all cases of appendicitis require surgery. Only about 10-20% of appendicitis require it.
When is an appendectomy indicated?
Although it is rarely performed to remove tumors of appendicular location, it is a surgery indicated mainly in acute appendicitis, that is, inflammation or infection of the appendix, which makes it necessary to remove it in order to prevent the infection from spreading through the abdominal space and causing peritonitis.
This clinical picture is suspected when the patient has severe abdominal pain, fever, loss of appetite, nausea and vomiting. In view of these symptoms, a blood test is performed that will show an elevated level of leukocytes in the event of infection.
Most frequent symptoms of appendicitis:
Intense abdominal pain.

Fever.

Loss of appetite.

Nausea and vomiting.
Do you have these symptoms of appendicitis?
You may need to have an appendectomy
How is an appendectomy performed?
An appendectomy is a surgical procedure that is usually performed under general anesthesia and requires hospital admission.
If the surgery is performed by laparoscopy, the patient's recovery will be faster and the complications that can appear will be minor.
In addition, as it is a problem of infectious origin, it will be necessary to schedule antibiotic treatment and monitor the evolution of the patient.
As drains are not usually placed after the operation, the patient can be discharged in one or two days, depending on his clinical progress and provided that no complications arise.
The person operated on can resume his or her daily activities within approximately one to three weeks. Finally, it should be noted that there are no known health problems derived from living without an appendix.
Where do we do it?
IN NAVARRE AND MADRID
The Department of General Surgery
of the Clínica Universidad de Navarra
The Department of General and Digestive Surgery is made up of specialists dedicated to the surgical treatment of endocrine, breast, gastrointestinal, hepatobiliary, pancreatic, colorectal and abdominal wall diseases, with special dedication to oncological surgery.
The application of laparoscopic surgery in the interventions reduces the hospital stay, the post-operative discomfort and shortens the patient's recovery.
We have a great experience in laparoscopic colorectal surgery, of the adrenal gland, liver and pancreas, as well as in obesity surgery.
Treatments we perform
Colorectal surgery.

Breast surgery.

Surgery of the hemorrhoids.

Pelvic floor surgery.

Endocrine and obesity surgery.

Esophageal and gastrointestinal surgery.

Hepatobiliary and pancreatic surgery.

Abdominal wall surgery.

Liver transplant.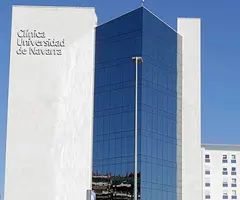 Why at the Clinica?
Center of Excellence in Obesity Surgery by the International Federation for Bariatric Surgery.
90% survival rate in liver transplants.
We are the private hospital with the largest technological equipment.
Our team of professionals