Allergic desensitization to drugs
"The Clinica has developed the technique of the basophil activation test to analyze in the laboratory possible allergies to drugs and thus correctly evaluate the convenience of carrying out tolerance tests".
DR. GABRIEL GASTAMINZA LASARTE DIRECTOR. ALLERGY AND IMMUNOLOGY DEPARTMENT
Drug desensitization consists of administering to a patient the drug to which he is allergic.
It is performed when there is no adequate alternative to that drug treatment. The most frequent cases are related to antibiotics (especially penicillins) and anticarcinogens (especially platins and taxanes).
At the Clinica Universidad de Navarra we have extensive experience in carrying out desensitization with antibiotics and oncological drugs.
Desensitization is complex and requires the coordination of many people and services. It does not mean that the patient is no longer allergic, but rather that it "tricks" the immune system so that a reaction is not triggered.
When is drug desensitization indicated?
Drugs are capable of causing adverse reactions of all kinds, not just allergic ones. In addition, the drug is often blamed for a wide range of symptoms, which can be confused with an allergic reaction, but which are caused by a coincident cause.
Allergic reactions to drugs are unpredictable reactions of varying severity, some of which are life-threatening. Any medication can cause allergic reactions.
Most frequent indications:
Do you have any drug allergies?
Desensitization treatment may be necessary
How is allergic desensitization to a drug performed?
Desensitization with a drug is a procedure that carries some risk. For this reason, it is usually performed in the Intensive Care Unit (ICU).
If the patient needs to receive the drug in several cycles, as occurs with chemotherapy, and the first administration has been tolerated without incident, the rest of the cycles are administered in a simpler unit. Performing desensitization is complex because it requires the coordination of many people and services.
The duration can be between two and a half and six hours, depending on the type of medication and the degree of allergy of the patient. Normally, it is well tolerated and the appearance of adverse effects that prevent the completion of the drug dose is rare.
Where do we do it?
IN NAVARRA AND MADRID
Department of Allergology
of the Clínica Universidad de Navarra
The Department of Allergy and Immunology of the Clinic is part of the Global Allergy and Asthma European Network, composed of the 25 best departments of Allergy in Europe, chosen for their scientific excellence, multidisciplinary work, teaching and international activities.
We have the most advanced diagnostic techniques, we are at the forefront of research and we collaborate with the best experts. We have more than 50 years of experience in the field.
What diseases do we treat?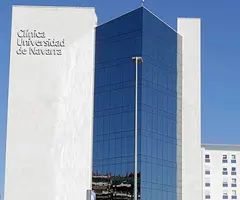 Why at the Clinica?
More than 50 years of experience.
Pioneers in the technique of molecular diagnosis by microarray.
Nursing specialized in allergic diseases and their care.
Our team of professionals
Specialists in Allergology with experience in allergic desensitization to medications