Abdominoplasty
"If the physical condition prior to surgery is good, including strong abdominal muscles, recovery after abdominoplasty will be faster, and you can return to work in 2-3 weeks".
DR. CRISTINA AUBÁ GUEDEA SPECIALIST. RESTORATIVE AND PLASTIC SURGERY DEPARTMENT
What is abdominoplasty?
Abdominoplasty is a surgical procedure that is indicated in those patients who want to remove excess skin and fat from the middle and lower abdomen and also strengthen the muscles of the abdominal wall.
In most cases, the results are definitive, as long as it is accompanied by a balanced diet and regular exercise.
Abdominoplasty, either complete or mini-abdominoplasty, provides excellent results in patients whose abdominal muscles are weakened and have an excess of skin and fat.
If you're realistic in your expectations and able to tolerate the presence of a permanent, though concealed, abdominal scar and a lengthy recovery period, abdominoplasty may be right for you.
When is abdominoplasty indicated?
It is especially useful for women who have had several pregnancies, after which the skin and abdominal muscles have relaxed and have not recovered their initial tone. It can also improve the appearance and elasticity of the skin in patients with moderate obesity.
Patients who must lose a lot of weight should postpone the surgery, as well as patients who intend to have future pregnancies, since during the surgery the vertical muscles of the abdomen are tightened and can be relaxed again during the course of the surgery.
Most frequent indications for this treatment:
Excess fat in the abdominal area.

Moderate obesity.
Do you have this problem?
You may need to have an abdominoplasty
How is abdominoplasty performed?
The type of anesthesia most commonly used to perform an abdominoplasty is general anesthesia, during which you will be asleep until the surgery is completed.
During the operation, a long incision is made from one hip to the other, just above the pubic bone.
Then, a second incision is made around the navel to separate it from the surrounding tissues and is then reinserted.
In the mini-abdominoplasty, a much smaller incision is used, also above the pubic bone, and the incision around the navel is not necessary, which in some cases can be lowered by stretching the skin.
The skin is then separated from the abdominal wall upwards until it reaches the ribs, exposing the abdominal muscles. These muscles are tightened and joined at the midline, providing a firm abdominal wall and a narrower waist. The separated skin is stretched in the direction of the pubis and the remaining skin is removed. The navel is placed in its new position.
Finally, the sutures are made and a bandage and a temporary drainage tube are placed to eliminate excess fluids that may accumulate in the operated area. In mini-abdominoplasty, the skin is separated only between the incision and the navel, the excess skin is removed and the sutures are made.
It can take a few weeks to a few months to feel like your old self again. If you're in good physical condition before surgery, including strong abdominal muscles, your recovery after abdominoplasty will be faster.
Some people return to work in about 2 weeks, while others require 3 or 4 weeks of rest and recuperation. Exercise helps you recover faster.
Even people who don't play sports before surgery should follow an exercise program to reduce swelling, decrease the chance of venous thrombus formation, and tone their muscles. However, vigorous exercise should be avoided until one feels comfortable.
Scars may appear to worsen during the first 3 to 6 months while they are healing. This is normal. You should wait between 9 months and 1 year for the scar to flatten and lighten.
Where do we do it?
IN NAVARRE AND MADRID
The Department of Plastic, Aesthetic and Reconstructive Surgery
of the Clínica Universidad de Navarra
The Department of Plastic, Reconstructive and Aesthetic Surgery has extensive experience in plastic surgery, both aesthetic and reconstructive. We are experts in microsurgical repair of blood vessels and nerves.
We have the latest technology and powerful microscopes that allow complete treatments with quality assurance and total security in any type of solution you need.
Reconstructive Surgery
Head and neck

Vascular abnormalities

Craniofacial

Burns

Auricular reconstruction
Aesthetic Surgery
Breast Surgery

Liposuction
Reconstructive Microsurgery
Reconstruction with microsurgical flaps.

Nerve microsurgery.

Reimplants.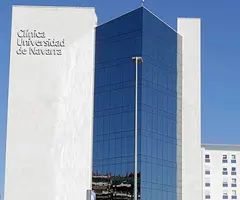 Why at the Clinica?
Experience of more than 20 years in the aesthetic treatment.
Professional experts trained in international reference centers.
Safety: Interdisciplinary attention within a hospital center.
Our team of professionals
Specialists in Plastic Surgery with experience in performing abdominoplasties