Rhinoplasty
"Several months, even a year, must pass to evaluate the result of a rhinoplasty. It is estimated that the tissues need this time to stabilize, just like the scars need to mature".
DR. ÁLVARO CABELLO SPECIALIST. RESTORATIVE AND PLASTIC SURGERY DEPARTMENT

What is rhinoplasty?
Rhinoplasty is the surgical intervention practiced to correct deformities of the nose.
It consists, fundamentally, in modifying the bony and cartilaginous structures of the nose to achieve a new shape that improves facial harmony.
The performance of a rhinoplasty can improve facial harmony of the patient, getting, moreover, that the nose does not seem operated.
You can change the shape of the back of the nose, reduce or increase its size, change its angle or expand the opening of the nostrils.
When is rhinoplasty indicated?
Most frequent indications for this treatment:
Difficulty in breathing through the nose

Deviation of the nasal septum

Deformity of the nasal profile
Do you have any of these symptoms?
Rhinoplasty may be necessary
How is rhinoplasty performed?
The operation is usually performed under general anesthesia, although in specific cases is carried out under local anesthesia and sedation.
During the operation, the surgeon cuts and models the nasal bones and cartilages to achieve the desired shape.
Sometimes, incisions are also made at the base of the nostrils. In order to help shape or support the nasal pyramid, often different tissues from the patient himself, such as cartilage or bone, are used as grafts, while on rare occasions synthetic materials are used.
After the surgery, a packing is inserted in the nose that remains until the next day. Also, a splint is placed over the nose and remains in place for a week.
Among the post-operative consequences, it is common to see swelling and bruising in the operated area, which will disappear after a week.
In most cases, patients can return to their daily activities within 8 to 10 days.
Where do we do it?
IN NAVARRA AND MADRID
The Department of Plastic, Aesthetic and Reconstructive Surgery
of the Clínica Universidad de Navarra
The Department of Plastic, Reconstructive and Aesthetic Surgery has extensive experience in plastic surgery, both aesthetic and reconstructive. We are experts in microsurgical repair of blood vessels and nerves.
We have the latest technology and powerful microscopes that allow complete treatments with quality assurance and total security in any type of solution you need.
Reconstructive Surgery
Head and neck

Vascular abnormalities

Craniofacial

Burns

Auricular reconstruction
Aesthetic Surgery
Breast Surgery

Liposuction
Reconstructive Microsurgery
Reconstruction with microsurgical flaps.

Nerve microsurgery.

Reimplants.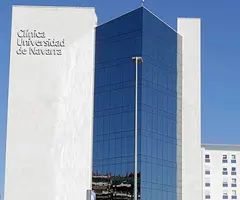 Why at the Clinica?
Experience of more than 20 years in the aesthetic treatment.
Professional experts trained in international reference centers.
Safety: Interdisciplinary attention within a hospital center.
Our team of professionals
Specialists in Plastic Surgery with experience in performing rhinoplasties