Home >
Dr. Bernardo Hontanilla

meet

Dr. Bernardo Hontanilla Calatayud

Head of Aesthetic and Reconstructive Plastic Surgery Department
Aesthetic and Reconstructive Plastic Surgery Department Specialist
training and

Professional Career

Graduated (1992) in Medicine from the Complutense University of Madrid.

He was awarded his doctorate (1995) in Medicine by the Autonomous University of Madrid.

He has now worked as the Head of Aesthetic and Reconstructive Plastic Surgery Department at the Clínica Universidad de Navarra since 2008.

As for his research activity, he has led 6 financed research projects since 2000 and participated in 9 projects. The research topics followed two main lines of investigation: the first was research into peripheral nerve regeneration a través de auto and nervous allografts using rats and primates as the experimental models, and the second investigated the use of inhibiting peptide TGF-B1 (p144) in both periprosthetic capsules and peripheral nerve regeneration.
Facial paralysis reconstruction and microsurgery
Mammary reconstruction
Head, neck and limb reconstruction
Aesthetic face and body surgery
Vascular malformations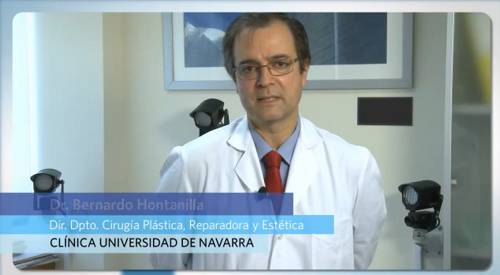 Recuperar la sonrisa tras la parálisis facial.
ACTIVITY
As an educator
Titular professor in Plastic Surgery for the ANECA, 2008
Titular professor in Plastic Surgery at the University of Navarra Faculty of Medicine since 2008
He has taught numerous national and international courses and seminars
As a researcher
As a result of these research projects, he has had 59 articles published in internationally distributed magazines in this field of surgery, all of which had an impact, 25 contributions to books and book chapters (3 of which were in English) and he has led 7 doctoral theses, and is currently leading 3 more.
He has participated throughout the years as a guest speaker at international and national conferences and courses (135 national and 31 international events). This includes 15 events as the guest speaker for international courses on facial paralysis and 12 prizes relating to his surgical and research work (including the Royal National Academy of Medicine, Spanish Society of Plastic Surgery etc.)
Miembro de la Sociedad Española de Cirugía Plástica, Reparadora y Estética
Miembro de la Asociación Europea de Cirujanos Plásticos (EURAPS)
Representante oficial de España ante la International Plastic, Reconstructive and Aesthetic Society (IPRAS)
Secretario del Europaps Research Council
In 2014 received the Hans Anderl Award Europe. Prize which promotes excellence in the field of Plastic Surgery in Europe.
Dr. Bernardo Hontanilla Calatayud, was the first plastic surgeon to be accredited as an expert by the ANECA.

Finger reimplantation requires microsurgical techniques and a very specific reconstruction process".
you may

BE INTERESTED

The Clínica is the spanish private hospital with the greatest technological equipment in one single center.

If you live outside of Spain and you wish to receive care at the Clínica, learn about our services for international patients.

Why we are different from other healthcare centers.
Quality, speed, comfort and results.