Liposuction
"The results can be permanent as long as the patient maintains a proper diet and exercises regularly".
DR. ÁLVARO CABELLO SPECIALIST. RESTORATIVE AND PLASTIC SURGERY DEPARTMENT
What is liposuction?
Liposuction is a treatment aimed at eliminating fat deposits located in different parts of the body, characterized by their resistance to diets.
By means of this technique, fat concentrated in different areas of the body, such as hips, thighs, knees, ankles, arms, abdomen, face, etc., can be aspirated.
The results can be permanent, as long as the patient maintains an adequate diet and practices exercise periodically.
When is liposuction indicated?
The ideal candidates to undergo this treatment are people with a relatively normal weight, who present accumulations of fat in localized areas. Therefore, it is not a technique for treating obesity and, it should be noted, it partially improves cellulite.
On the contrary, liposuction is not recommended when the patient has recently undergone surgery in the area to be treated, has poor circulation in that area or suffers from heart or respiratory problems.
Most frequent indications:
Fat accumulation in localized areas.
Do you have areas of localized fat?
You may benefit from liposuction
¿Cómo se realiza la liposucción?
The operation, which lasts between 1 and 2 hours, is usually performed under general anesthesia, although when the application is very specific can be treated by local anesthesia.
Always performed in an operating room, the technique consists essentially of aspirating the fat through the introduction of a cannula connected to a vacuum machine or a special syringe, depending on each case.
After the operation, a compressive bandage or an elastic garment is used. The appearance of bruises and inflammation of the tissues is normal in the operated area.
This is a highly effective technique for achieving a new body contour with minimal scarring.
However, a minimum of three months must pass before the beneficial effects of the intervention can be evaluated.
The results can be permanent, as long as the patient maintains an adequate diet and practices exercise periodically.
Where do we do it?
IN NAVARRE AND MADRID
The Department of Plastic, Aesthetic and Reconstructive Surgery
of the Clínica Universidad de Navarra
The Department of Plastic, Reconstructive and Aesthetic Surgery has extensive experience in plastic surgery, both aesthetic and reconstructive. We are experts in microsurgical repair of blood vessels and nerves.
We have the latest technology and powerful microscopes that allow complete treatments with quality assurance and total security in any type of solution you need.
Reconstructive Surgery
Head and neck

Vascular abnormalities

Craniofacial

Burns

Auricular reconstruction
Aesthetic Surgery
Breast Surgery

Liposuction
Reconstructive Microsurgery
Reconstruction with microsurgical flaps.

Nerve microsurgery.

Reimplants.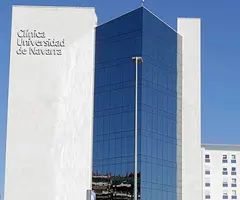 Why at the Clinica?
Experience of more than 20 years in the aesthetic treatment.
Professional experts trained in international reference centers.
Safety: Interdisciplinary attention within a hospital center.
Our team of professionals
Plastic Surgery Specialists with expertise in liposuction