Contact Dermatitis
"It is very important to determine a correct diagnosis, since it will make it possible to know the allergic causes to which the patient is exposed and to establish the appropriate treatment to correct or, if necessary, eliminate them".
DR. CARMEN D'AMELIO GARÓFALO
SPECIALIST. ALLERGY AND IMMUNOLOGY DEPARTMENT
Contact dermatitis is an inflammatory reaction of the skin to an irritant that has a toxic effect on tissue.
There are many types of irritants: soaps, detergents, solvents, acids and alkalines that produce cell damage, if applied for a long time and in sufficient concentration.
Irritative contact dermatitis presents a varied clinical morphology that depends on the properties of the irritant product and the characteristics of the exposure, concentration, exposed surface, etc.
Acute form: it develops after contact with agents that rapidly alter the epidermis and clinically take on the appearance of skin burns.
Chronic form: it develops after repeated exposure to mild irritant agents that have a cumulative effect until producing the inflammatory reaction. In these cases, the symptomatology may persist even though contact with the irritant has ceased. Patients with previous dermatitis (atopy, psoriasis, etc.) have a higher incidence of irritative contact dermatitis.

Do you need a remote second opinion?
Our professionals will provide you with a medical evaluation without you having to leave your home.
What are the symptoms of contact dermatitis?
The skin symptoms of the hands, especially on the palms and in the interdigital spaces, that usually appear are:
Redness or inflammation of the skin in the exposed area.

Lesions that can be of any type.

Redness, rash, papules, vesicles, blisters, as well as exudation and crusting.

Itching or burning.

Increased sensitivity of the skin.
The most common symptoms are:
Itching and redness.

Inflammation.

Itching or burning.

Increased sensitivity of the skin.
Do you have any of these symptoms?
You may have a contact dermatitis
How is contact dermatitis diagnosed?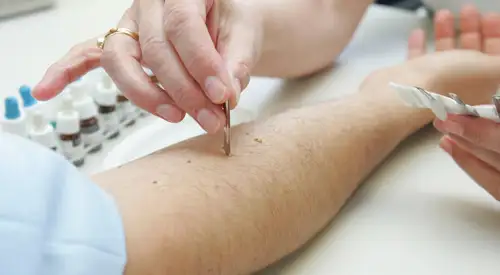 The diagnosis is made through physical examination. Skin tests can be performed to find out what substance the patient is allergic to.
Irritative contact dermatitis in its chronic form is the most common cause of contact dermatitis in the workplace.
It is most frequently found on the hands, especially in groups of people in contact with frequent irritants such as housewives, hairdressers, workers in cold climates, etc.
Among the substances that most frequently cause irritative contact dermatitis are nickel, cobalt, chrome, mercury, rubber, etc.
How is contact dermatitis treated?
As a preventive measure, emollient or moisturizing creams are usually indicated to help keep the skin moist and encourage its regeneration.
In moments of acute outbreak, creams or ointments with corticosteroids will be administered to help reduce inflammation.
Sometimes it may be necessary to indicate topical treatment with tacrolimus or pimecrolimus.
To accelerate healing and prevent relapses of dermatitis you should consider the following measures:
Use warm water and soap without perfume, tar or sulphur.

Use little soap and rinse hands thoroughly.

Dry the hands with a clean and dry towel, without forgetting the drying between the fingers.

Rings can retain irritating substances, so remove them when doing work and whenever washing.

Avoid contact with detergents and other strong cleaning agents as much as possible (metal cleaners, floor cleaning waxes, automobiles, furniture, window cleaners, etc.).

Avoid contact with solvents such as petroleum, gasoline, acetone, tricloetilene, etc.

Avoid handling hairdressing products: shampoo, hair dyes, lotions, etc.

Have your hair washed by another person or use single-use fine plastic gloves.

Avoid contact with tomato juice, garlic, onion, potatoes, lemons, oranges, vegetables, etc., and use single-use fine plastic gloves for protection.

Protect your hands from dryness and cracks caused by the cold. Use leather gloves without lining.

When washing dishes and clothes, and when handling the substances mentioned above, always use fine plastic gloves for single use. If one of these gloves becomes punctured, replace it with another.

Store packages and bottles of irritant products clean, with no residue on the outside. When gloves are to be used for a long period of time a protection cream (Bariderm®, Nivea®, Atrix®, etc.) must be applied previously.
Remember that skin resistance is diminished for 4-5 months after dermatitis has disappeared. Even if the symptoms have disappeared you should continue to follow these instructions.
Where do we treat it?
IN NAVARRE AND MADRID
Department of Allergology
of the Clínica Universidad de Navarra
The Department of Allergy and Immunology of the Clinic is part of the Global Allergy and Asthma European Network, composed of the 25 best departments of Allergy in Europe, chosen for their scientific excellence, multidisciplinary work, teaching and international activities.
We have the most advanced diagnostic techniques, we are at the forefront of research and we collaborate with the best experts. We have more than 50 years of experience in the field.
What diseases do we treat?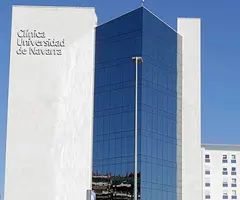 Why at the Clinica?
More than 50 years of experience.
Pioneers in the technique of molecular diagnosis by microarray.
Nursing specialized in allergic diseases and their care.
Our team of professionals