Optical Coherence Tomography (OCT)
"It is indicated in people who have had an acute coronary syndrome or who have risk factors that make them susceptible to being a high-risk patient, such as diabetic patients".
DR. JOSÉ CALABUIG SPECIALIST. CARDIOLOGY DEPARTMENT
Optical Coherence Tomography (OCT) is a technique used to study the inside of the coronary arteries.
The peculiarity of this technique is that it has a resolution about ten times higher than other diagnostic techniques used in cardiology.
The progression of the lesions due to atherosclerosis leads to a final stage of the atheroma plaque, whose next step, in some patients, is that it breaks down and, consequently, an acute coronary syndrome manifests itself.
OCT has shown high sensitivity and specificity in classifying the different types of atherosclerotic plaques.
It is also used to evaluate the outcome after stent implantation in patients who have undergone percutaneous coronary intervention. With this technique the different behaviors of the different stents are studied with greater clarity, being able to evaluate if it is well implanted, which are less or more restenotic, etc.
With the optical coherence tomography we are able to visualize with greater clarity the interior of the coronary artery, differentiating between the components of the plaque and the different parts of the interior of the artery, as if it were a histological cut in pathological anatomy.
This technique, given its high resolution, makes it possible to identify plaques with a thin fibrous capsule, smaller than 65 microns, which are the most likely to break and cause acute coronary syndromes.
Most frequent indications of this test:
Do you have any of these diseases?
It may be necessary to perform an optical coherence tomography
Where do we do it?
IN NAVARRE AND MADRID
The Department of Cardiology
of the Clínica Universidad de Navarra
The Department of Cardiology of the Clinica Universidad de Navarra is a center of reference in different diagnostic techniques and coronary treatments.
We have been the first center in Europe to place a pacemaker by means of a catheterization without the need to open the chest, for cases of severe heart failure.
The Cardiology Department of the Clinic collaborates with the Radiology and Cardiac Surgery Departments to achieve a quick and precise diagnosis of the patient.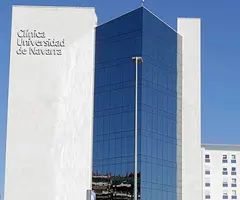 Why at the Clinica?
Specialized Arrhythmia Unit of national reference.
Unit of Hemodynamics and Interventionist Cardiology equipped with the best technology.
Cardiac Imaging Unit to achieve the highest diagnostic accuracy.
Our team of professionals