Drug Tolerance
"The Clinica has developed the technique of the basophil activation test to analyze in the laboratory possible allergies to drugs and thus correctly evaluate the convenience of carrying out tolerance tests".
DR. GABRIEL GASTAMINZA LASARTE DIRECTOR. ALLERGY AND IMMUNOLOGY DEPARTMENT
The definitive test that confirms that a person is NOT allergic to a drug is the tolerance test.
This test consists of the administration of the drug at the usual doses and conditions of use.
We only do a tolerance test when we think that the patient is not allergic, for which we take into consideration the medical history, the results of the skin tests, the specific IgE -when it is possible to measure it- and the Basophilic Activation Test.
The degree of safety is high and the number of reactions suffered by patients in these tests is less than 1%.
We have the appropriate facilities to perform this test. The patient remains controlled in a room where he can work, read or watch television, which will help to reduce the anxiety that this type of test causes in most patients.
When is a drug tolerance test indicated?
Drugs are capable of causing adverse reactions of all kinds, not just allergic ones.
In addition, the drug is often blamed for a wide range of symptoms, which can be confused with an allergic reaction, but which are caused by a coincident cause. For example, viral infections can be accompanied by a skin rash, and many times that rash is labeled as an allergic reaction to the antibiotic.
On the other hand, drug allergy skin tests are not entirely reliable. There are false negatives and false positives.
Indications for this test:
Do you suspect a drug allergy?
You may need to have a drug tolerance test
Where do we do it?
IN NAVARRE AND MADRID
Department of Allergology
of the Clínica Universidad de Navarra
The Department of Allergy and Immunology of the Clinic is part of the Global Allergy and Asthma European Network, composed of the 25 best departments of Allergy in Europe, chosen for their scientific excellence, multidisciplinary work, teaching and international activities.
We have the most advanced diagnostic techniques, we are at the forefront of research and we collaborate with the best experts. We have more than 50 years of experience in the field.
What diseases do we treat?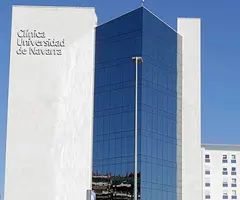 Why at the Clinica?
More than 50 years of experience.
Pioneers in the technique of molecular diagnosis by microarray.
Nursing specialized in allergic diseases and their care.
Our team of professionals