Colposcopy
"It is possible to reduce the risk by avoiding hormone replacement therapy with estrogen alone, maintaining a healthy weight, daily physical exercise and a thorough control by your gynecologist in case of family history, risk factors, taking tamoxifen or any genital bleeding".
DR. JOSÉ ÁNGEL MÍNGUEZ SPECIALIST. GYNAECOLOGY AND OBSTETRICS DEPARTMENT
Colposcopy is a medical procedure to examine the cervix through a colposcope.
This instrument is made up of lenses of various magnifications and incorporates a light source. It can also be fitted with a camera, video and monitor so that images can be recorded or viewed at a higher magnification.
This type of exploration allows the study of the type of epithelium and its vascularization as well as any lesions that may exist.
Colposcopy is useful to visually identify areas of the cervical epithelium that may have some alteration.
These alterations are very varied, from inflammations (colpitis) to cancers. It is especially useful for identifying areas that, because of the abnormal images that are seen, may harbor alterations in the structure of the cells underneath.
When is colposcopy indicated?
The exploration can be performed on any woman who is having a gynecological examination for the first time.
Essentially in those women in whom the cervical cytology shows some alteration of the cells of the cervix. In this case, the identification of that abnormal area with the colposcope is used to take a small sample (directed biopsy).
It is not necessary to repeat the colposcopy every year that the gynecological examination is carried out, although it should be done every time a treated or suspected lesion is checked.
Most frequent indications of this test:
Suspicion of cervical cancer

Early detection of lesions of the cervix

Diagnosis of benign lesions
Do you have any of these diseases?
You may need to have a colposcopy
How is colposcopy performed?
The patient lies down on a stretcher in a gynecological position. A speculum is placed, which allows the vaginal opening to be widened, and the cervix is visualized with the colposcope.
Once the cytology is taken, it is cleaned with diluted acetic acid which, in addition to cleaning the flow and cellular detritus, highlights those cells of the cervix that may have some abnormality.
Once these areas have been identified, the cervix can be stained with a lugol solution (Schiller's solution), which is rich in iodine, in order to reveal lesions that could go unnoticed by the naked eye.
The surface of the cervix or cervical epithelium is stained dark brown, except for the injured areas which look whitish. When abnormal areas are identified, it may be useful to take biopsies or tissue samples from the cervix for further studies.
The test can take from 4 to 10 minutes and requires a careful examination of each area of the cervix and recording of any suspicious or doubtful images.
It is recommended that the woman who is not menstruating for the test.
In principle, this scan is risk-free, unless you are allergic to the iodine solution or the acetic acid used.
The gynecological exploration can be uncomfortable due to the duration of the procedure, although, carried out by an experienced gynecologist, no more than 5 minutes of exploration is usually necessary.
If a biopsy is taken, it is usual for a small amount of bleeding to occur.
Where do we do it?
IN NAVARRE AND MADRID
The Department of Gynecology and Obstetrics of the
of the Clínica Universidad de Navarra
Comprehensive care that includes a wide range of consultation and treatment options from regular preventive screening to the most advanced diagnostic and treatment options for obstetric and gynecological problems at all ages.
The department also offers routine pregnancy monitoring that includes a variety of diagnostic and screening procedures to identify potential problems of the fetus as well as its proper growth and development.
Diseases we treat
Prenatal diagnosis

Masas anexiales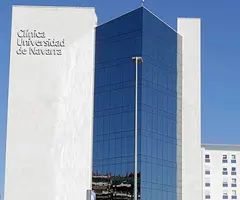 Why at the Clinica?
Highly specialized team of doctors, nurses and midwives.
Reproduction and Fertility Unit.
Pregnancy follow-up with a personalized delivery.
All the comfort, with the guarantee and safety of a hospital with the most advanced equipment.
Our team of professionals