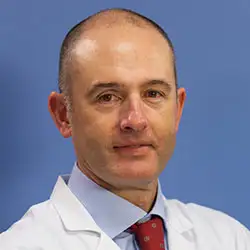 Dr. José Ángel Mínguez
Gynaecology and Obstetrics Specialist
Area of expertise: Urogynaecology, pelvic floor pathology and minimally invasive surgery
Works at:
Navarre headquarters
Be part of:
Clínica Universidad de Navarra
Cancer Center Clínica Universidad de Navarra
Professional career
Graduated in Medicine and Surgery from the University of Valencia (1995) and Doctor in Medicine from the University of Navarra (2004).
He is a Gynaecology and Obstetrics Specialist at the Clínica Universidad de Navarra.
He completed his training with various residencies in national centres: Hospital La Fe de Valencia and H.Clínico de Barcelona as well as international: Centre Europeen de Formacion Practique a la Chirurgie Endoscopique de Perigueux, Cleveland Clinic Foundation in Ohio, USA, Mayo Clinic Scottsdale, Arizona, USA and Policlinico Gemelli, Rome, Italy.
RESEARCH AREAS
Gynecological Cancer
Relationship between childbirth and pelvic floor pathology
Experimental surgery in animal model
Teaching models in surgical anatomy
AREAS OF INTEREST
Gynecological Cancer
Pelvic Floor Pathology
Tubal microsurgery
Minimally invasive surgery - Robotic surgery
Deep pelvic endometriosis
Activity
As an educator
Associated professor of Gynaecology and Obstetrics in the University of Navarra Faculty of Medicine.
As a researcher
Author of 8 specialised book chapters, he has had 25 articles published in international and national specialised scientific magazines.

Scientific organizations
Spanish Society of Gynecology and Obstetrics (SEGO).
Spanish Pelvic Floor Group (GESP).
European Society of Gynecological Endoscopy (ESGE).
Latest scientific publications