Basophil activation test
"This is a technique for the diagnosis of allergies in vitro, which uses a type of blood leukocytes that are basophils".
DR. CARMEN D'AMELIO GARÓFALO SPECIALIST. ALLERGY AND IMMUNOLOGY DEPARTMENT
The basophil activation test is based on the measurement of the percentage of basophils that are activated in contact with the allergen.
Basophils have IgE-type antibodies attached to their membrane, which are the antibodies responsible for immediate allergic reactions.
The way to differentiate the activated basophils from the ones that are not is done through the use of monoclonal antibodies that recognize the CD63 protein that is in the membrane of the basophil's granules.
When the basophil is activated, the granule membrane binds to the cell membrane and the granules (which contain the mediators responsible for the allergic manifestations) release their content to the outside. In this way, the basophil membrane starts expressing CD63 molecules.
Flow cytometry allows the analysis and counting of the percentage of cells that are activated with respect to those that are not.
When is the basophil activation test indicated?
The great advantage of this technique is the possibility of detecting in vitro the allergic response to practically any drug and to evaluate the sensitivity to food, which makes it a good complement to skin tests in the diagnosis of immediate reactions.
In addition, it is a very useful tool when deciding when to perform a drug allergy tolerance test, especially.
Most frequent indications of this test:
Do you suspect that you have allergies?
It may be necessary to perform a basophil activation test
Where do we do it?
IN NAVARRE AND MADRID
Department of Allergology
of the Clínica Universidad de Navarra
The Department of Allergy and Immunology of the Clinic is part of the Global Allergy and Asthma European Network, composed of the 25 best departments of Allergy in Europe, chosen for their scientific excellence, multidisciplinary work, teaching and international activities.
We have the most advanced diagnostic techniques, we are at the forefront of research and we collaborate with the best experts. We have more than 50 years of experience in the field.
What diseases do we treat?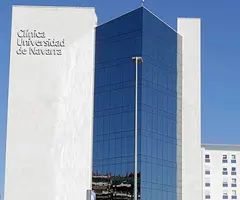 Why at the Clinica?
More than 50 years of experience.
Pioneers in the technique of molecular diagnosis by microarray.
Nursing specialized in allergic diseases and their care.
Our team of professionals