Lifting facial
"Like any surgical procedure, cosmetic surgery must follow a series of rules and laws in order to be performed with maximum safety".
DR. BERNARDO HONTANILLA CALATAYUD SCIENTIFIC DIRECTOR. RESTORATIVE AND PLASTIC SURGERY DEPARTMENT
What is a facelift?
A facelift is a procedure designed to tighten facial and neck skin in order to reduce folds or wrinkles.
The intervention is performed to correct the effects of the setback that, over the years, occurs in the evolution, both in the muscle structure of the face, as in the skin texture.
In the same procedure, fat accumulations can be reduced or muscles that have become flaccid can be tightened, actions that give the face a firmer appearance.
When is a facelift indicated?
Indicated to solve problems of aging and flaccidity of skin and muscles of the face, neck and neckline.
Most frequent indications:
Wrinkles.

Flaccidity.

Loss of firmness and elasticity.

Hyperpigmented lesions.
Do you have any of these problems?
A facelift may be necessary
How is a facelift performed?
The facelift operation usually lasts between 2 and 4 hours. This intervention is performed under general anesthesia.
To carry out the intervention, incisions are made on the scalp, in the frontal and temporal regions, so that they surround the ears and end up in the area near the neck.
Thanks to these cuts, the surgeon can make a detachment of the skin in order to achieve its tightening.
After the operation, drains are placed to reduce the possibility of bruising. The resulting discomfort is temporary and disappears spontaneously or with painkillers.
As for the scars, most are hidden in the scalp above the temple and to the neck region. The signs of the incisions can be noticed slightly only during the first weeks and in an area around the ear. On the other hand, these scars are easy to conceal with a hairstyle. Around the fifth day after the surgery, the stitches begin to be removed, a process that does not end until eight or ten days after the surgery.
Usually, three weeks after the operation, a practically normal life can be lived, including returning to work.
Where do we do it?
IN NAVARRE AND MADRID
The Department of Plastic, Aesthetic and Reconstructive Surgery
of the Clínica Universidad de Navarra
The Department of Plastic, Reconstructive and Aesthetic Surgery has extensive experience in plastic surgery, both aesthetic and reconstructive. We are experts in microsurgical repair of blood vessels and nerves.
We have the latest technology and powerful microscopes that allow complete treatments with quality assurance and total security in any type of solution you need.
Reconstructive Surgery
Head and neck

Vascular abnormalities

Craniofacial

Burns

Auricular reconstruction
Aesthetic Surgery
Breast Surgery

Liposuction
Reconstructive Microsurgery
Reconstruction with microsurgical flaps.

Nerve microsurgery.

Reimplants.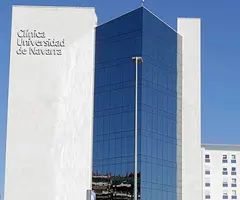 Why at the Clinica?
Experience of more than 20 years in the aesthetic treatment.
Professional experts trained in international reference centers.
Safety: Interdisciplinary attention within a hospital center.
Our team of professionals
Specialists in Plastic Surgery with experience in facelifts