Chronic pelvic pain
"The first thing that must be established is what the origin of the pain is in order for the treatment to be effective".
DR. JUAN LUIS ALCÁZAR
CODIRECTOR. GYNAECOLOGY AND OBSTETRICS DEPARTMENT
Chronic pelvic pain is a pain of pelvic location, that is, in the lower abdomen, which evolves over a period of more than 6 months.
Although, on numerous occasions, attempts are made to attribute painful symptoms to specific organic causes, it is not easy to simply classify the causes of chronic pelvic pain.
It can be very incapacitating for women and that is why it is necessary to be meticulous when diagnosing it and to indicate the ideal treatment in each case.
In the Department of Gynecology and Obstetrics we evaluate the pain and its causes, and then decide on the treatment, which on occasion must be handled in a multidisciplinary manner.

Do you need a remote second opinion?
Our professionals will provide you with a medical evaluation without you having to leave your home.
What are the symptoms and causes of chronic pelvic pain?
Basically, the causes can be divided into two groups: cyclical and non-cyclical, which can help discern whether there is a menstrual cycle-related origin of the pain or not.
Predominantly non-cyclical causes:
Pelvic inflammatory disease.

Pelvic adhesions.

Uterine malposition: neoplasms of the genital system.

Musculoskeletal disorder.

Gastrointestinal alterations.

Urinary pathology.

Psychological factors.

No demonstrable organic anomalies.
Predominantly cyclical causes:
Ovulation pain.

Primary dysmenorrhea.

Secondary dysmenorrhea: endometriosis, adenomyosis, endometritis, cervical stenosis and leiomyoma.

IUD.

Premenstrual syndrome.
The most common symptoms are:
Heavy menstrual bleeding.

Bleeding between periods.

Absence of menstruation.

Persistent pain in the lower abdomen.
Do you have any of these symptoms?
Further study of your pelvic pain may be needed
How is chronic pelvic pain diagnosed?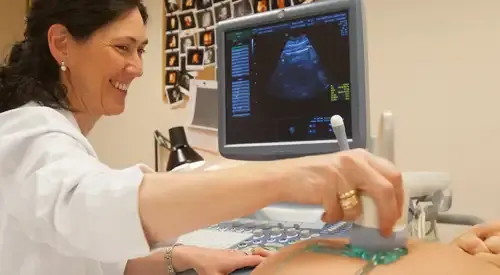 A pain that persists beyond 6 months should be investigated, both from a somatic and a psychosocial point of view.
It must be done with a correct extensive and precise interrogation. A good clinical examination and a minimum laboratory analysis is essential. As diagnostic tests highlights the pelvic ultrasound, better if performed with a vaginal probe, laparoscopy, which allows direct examination of the pelvis. Other explorations such as magnetic resonance can be useful.
Once the pain has been correctly evaluated, if a specific cause has been found, the treatment of this cause is paramount for therapeutic success.
How is chronic pelvic pain treated?
Generally, it will be initiated by pharmacological treatment in those cases of pain of non-cancerous origin.
First of all, salicylates must be used.

If they fail, the next therapeutic option is non-steroidal anti-inflammatory drugs.

Thirdly, we find adjuvant therapy with tricyclic antidepressants, the last step being the use of opiates if good results have not been obtained, with all the above-mentioned drugs.
In some cases, the treatment must be specific surgical, depending on those situations in which an apparent or possible cause of the pain has been found, such as the release of adhesions, uterine fixation, or the hysterectomy itself.
On other occasions, surgical treatment of the pain pathways will be performed in order to section the nerves that transmit the painful sensations.
Where do we treat it?
IN NAVARRE AND MADRID
The Department of Gynecology and Obstetrics of the
of the Clínica Universidad de Navarra
Comprehensive care that includes a wide range of consultation and treatment options from regular preventive screening to the most advanced diagnostic and treatment options for obstetric and gynecological problems at all ages.
The department also offers routine pregnancy monitoring that includes a variety of diagnostic and screening procedures to identify potential problems of the fetus as well as its proper growth and development.
Diseases we treat
Prenatal diagnosis

Masas anexiales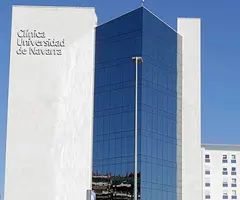 Why at the Clinica?
Highly specialized team of doctors, nurses and midwives.
Reproduction and Fertility Unit.
Pregnancy follow-up with a personalized delivery.
All the comfort, with the guarantee and safety of a hospital with the most advanced equipment.
Our team of professionals